In light of COVID19, our team is taking extra precautions to be safe and healthy. Please take a moment to read our response and see how Crossfield Doodles is navigating this for our valued clients. 
Maggie Grace + Toby Graham
Puppies Expected: Fall/Winter 2020
This pair has not yet bred. At this point, we are least 4 months away from take home on this litter.  For a better understanding of calculating dates, please read more on our Frequently Asked Questions under: "Do you have any puppies available" and "How do you know when to expect puppies?"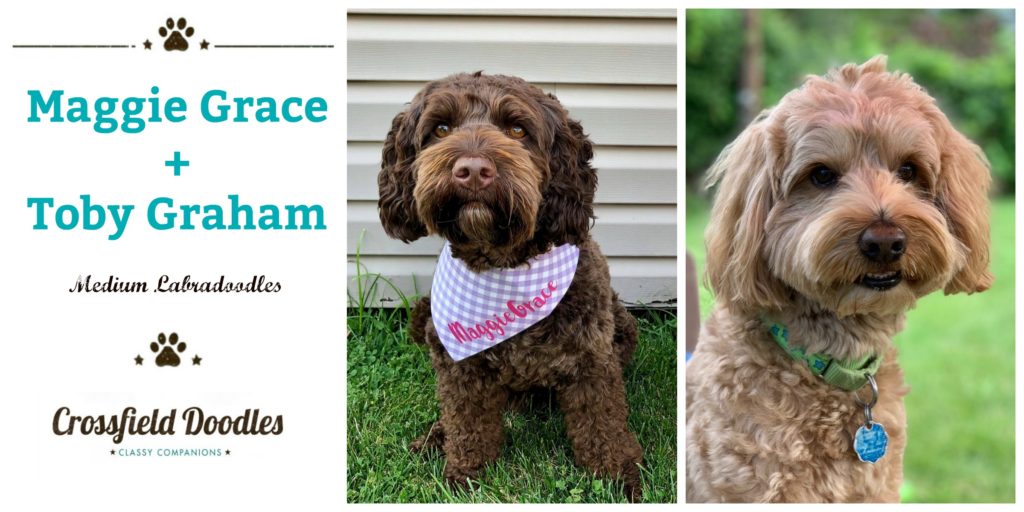 Litter Description
Medium labradoodles expected Fall/Winter 2020. These puppies will be 25 – 40 lbs, fully grown. Colors expected are: red, chocolate & black.
Price: $2,800
Going Home: Fall/Winter 2020
Preview Maggie Grace's Previous Litter:

Reservations
1. Breeder Choice
2. Pick 2
3. Pick 3
4. Pick 4
If spots open for any reason (more puppies born than expected or client shifting off the list prior to home going date for puppies) we will fill vacancies from our *Special Reserve list.  Only clients who have submitted a deposit can be on our Special Reserve list.*
We will accept reservations for Trained Puppies