Crossfield Doodles
Classy Companions
Early morning walks in the mist of dawn's first light are pretty special with a Crossfield Doodle. Watching your child romp around with these gentle beauties will make your day, especially as you get to watch them grow together.
Apply Now
ABOUT US
Doodle Breeders
We love our Doodles, and we bet you will too! We got our first doodle so that our family could enjoy the companionship of a dog without the animal allergies that bothered some of our children. We fell in love with our first doodle's great looks and lovable temperament.
Crossfield Doodles is based in the mid-Atlantic so we can help families in Philadelphia, New York City, Trenton, Baltimore, Washington DC, and beyond find the perfect classy companion. We have all types of doodles available for adoption. Feel free to check out our breeds and sizes on our ready to reserve page.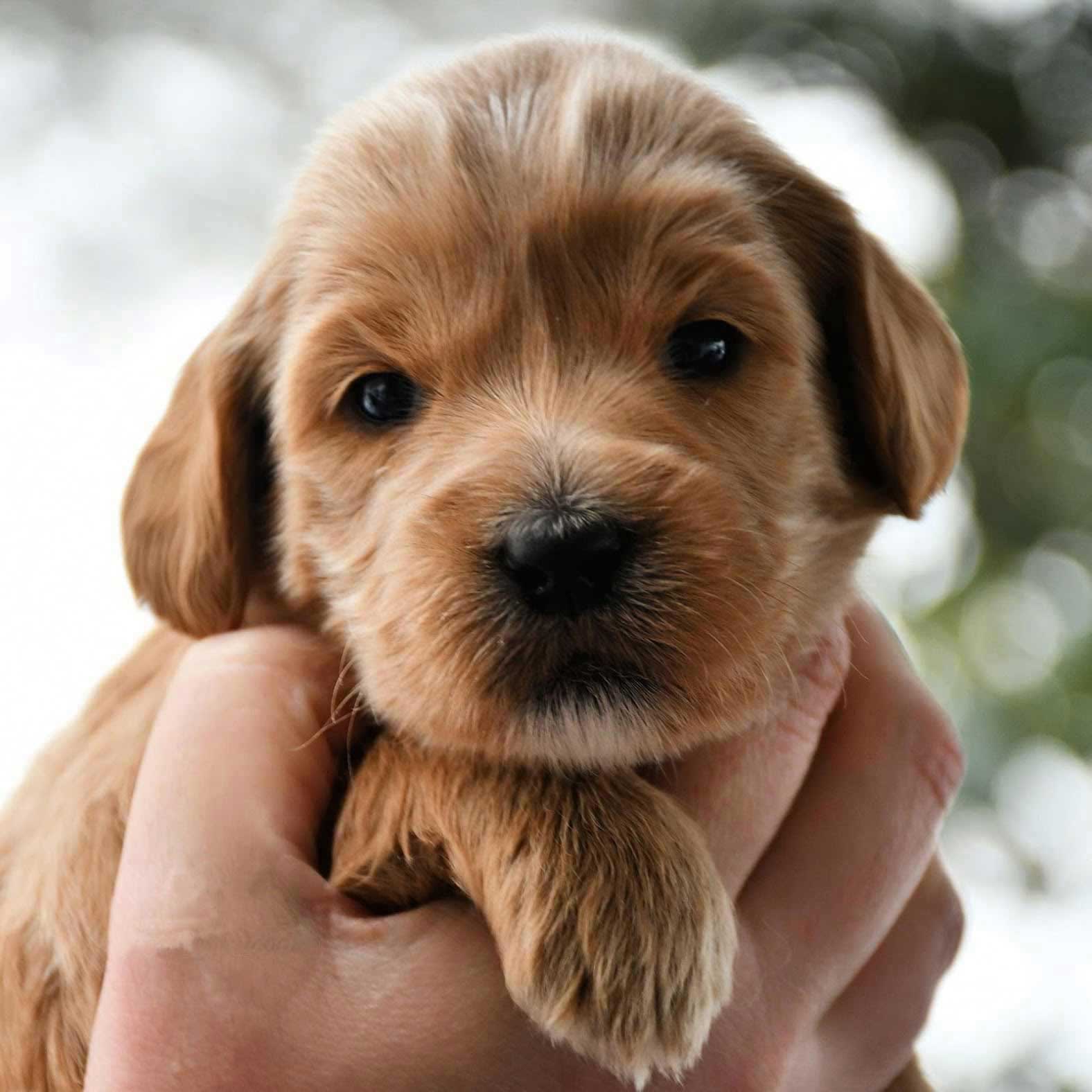 Adopt Your Classy Companion
AVAILABLE PUPPIES
Find the Perfect Companion
What Our Clients Say
Testimonials
Do you have any puppies available?
It depends. We speak to clients daily, and those conversations are scheduled according to the date/time your application is received.  When we receive an email question about puppy availability, we direct any contact to fill-out an application to get on our calendar for a call-back time.  An available puppy now may be sold in 30 minutes, so we never give updates via email about puppy availability.
Our lists fill up quickly! The most up-to-date listing of our available puppies is on our Facebook page https://www.facebook.com/crossfielddoodles/. Go to a particular litter's photo album where we list how many picks are still available.  Usually, we have a very limited number of puppies that are available before they are 8 weeks.  You can check out our litters by visiting our Litter page. Over 99% of our puppies are reserved before going home day. However, if you want to speak with someone about availability, we invite you to fill out an application and schedule a call with one of our Client Representatives.
You can also check our website for any planned litters. Visit https://crossfielddoodles.com and hover over the "Puppies" tab to navigate to the size you are looking for.  Each size tab breaks-out to available pairs, and each pairing provides you with the estimated time the litter will be born and the reservation list.  We sell puppies everyday and keep a master list in our office.  Lastly, our online lists are updated frequently, but the best way to check availability is to fill out an online application and respond to us about scheduling a phone call.
What is the process for getting on a reservation list for a puppy?
A full description of our process can be found here: Adoption Process
In short, as soon as you decide you want to bring a Crossfield Doodle into your home, start by filling out an online application. We will contact you about scheduling a call, and go from there. Our lists are about 75% full by the time puppies are born. The first half of our lists are full well in advance of 6 months in most cases. If you have a size, color or gender preference, we recommend you begin as early as you can.
When are puppies from our litter expected?
The first thing to consider: Has the pair had a successful breeding? Each female has a cycle that we have to wait on. While we know *on average, every female cycles anywhere from every 4 to 9 months, we have to wait on Mother Nature with each female. In addition breedings generally take place anywhere from the 7th to the 20th day of a girls' cycle. We cannot start any sort of official clock until breeding has occurred. Once breeding occurs, we notify everyone on the reservation list within a week with projected dates for puppy arrival, 6 week picks, 8 week going home, and Trained going home. Many times, the season affects these cycles, so we may be breeding several females over a space of a couple of weeks, depending on swings and shifts in the weather. Please use this helpful guide when calculating on your own:
Breeding Day—Day​ ZERO
DUE (Arrival can be +/- 5 days from this date)-Day​ 63/Week 9
6 week visitation-Day​ 105/Week 15
8 week going home-Day​ 119/Week 17
Trained going home-Day​ 140/Week 20
We all like to plan! As you can see from the timing above, we can only provide you with a 20-week planning guide. Before Breeding Day, all our estimates are just that, an estimate based on your girl's history. We track everything, so we know when to project, but our projections are usually based on a season or a one-to-three-month window (i.e. "April to May" or "Spring of 20__"). Once a girl has a litter, we will project when her next season will be, but we are only basing that on what she has done in the past. Sometimes seasons come VERY early; sometimes they come VERY late. If we could control them…well, we'd be doing more than breeding dogs with that hidden talent!
We are often asked about planning for vacation during the season your puppies are expected. We wish we could provide you with more certainty, but if we have not had a breeding, we cannot give you anything more than our informed projections. We recommend planning vacations according to the 17-to-20 week guide. Has your girl bred yet? If she has NOT, you have at least 4 months to get a vacation in before you must think about bringing home a puppy. While you are waiting, check out our current litters. If she has, the clock is ticking!
Do you have any trained doodles available?
Trained reservations are made by clients many, many months in advance. Clients reserve a puppy, and then select to add training on.  You may read about training reservations on our website.
To reserve a puppy that you may have trained, please begin our process by filling out our application.