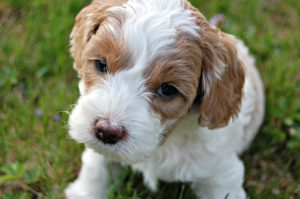 Our trained puppies are offered at 11 weeks of age.  Only a limited number of puppies are held back for training.  Puppies from any litter may be reserved for training.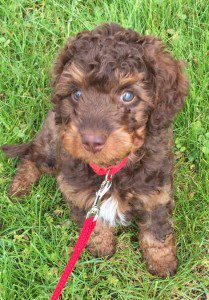 Trained puppies also go home with their very own crate, crate pad, blankets and toys in order to help make this transition as seamless as possible.
Please fill-out our online application to begin the process of adopting a trained puppy.  We will happily answer any questions you may have about the training.
Clients pay an additional $950 to the contract price for a trained puppy.  Trained puppies that need to stay after their home-going day may board for a maximum of 7 days at a cost of $25 a day for continued training and boarding.  Availability for this extended stay is limited and not a guaranteed option.  Contact us if you need to make this arrangement.
 Trained puppies
Sleep in a crate through the night with no accidents
Crate train for a 4 hour stretch each day with a dry, clean crate
Walk on a leash
Introduced to "Sit" and "Stay" on command
Introduced to command to "Stay back" from door and walkways
House Trained for up to 2 hour stretches each day
Micro chipped
Up to date vaccination record and veterninary checked
Crate, Crate pad, blanket and toys
Health guarantee
Current Trained Puppy AVAILABLE!
Trained Puppies
September 12, 2016