Frequently Asked Questions
We've put together some of our most frequently asked questions to give you more information about Crossfield Doodles and the puppies that can be a part of your "furever" family!
Do you have any puppies available?
It depends. We speak to clients daily, and those conversations are scheduled according to the date/time your application is received.  When we receive an email question about puppy availability, we direct any contact to fill-out an application to get on our calendar for a call-back time.  An available puppy now may be sold in 30 minutes, so we never give updates via email about puppy availability. 
Our lists fill up quickly! The most up-to-date listing of our available puppies is on our Facebook page https://www.facebook.com/crossfielddoodles/. Go to a particular litter's photo album where we list how many picks are still available.  Usually, we have a very limited number of puppies that are available before they are 8 weeks.  Over 99% of our puppies are reserved before going home day. However, if you want to speak with someone about availability, we invite you to fill out an application and schedule a call with one of our Client Representatives.
You can also check our website for any planned litters. Visit http://crossfielddoodles.com and hover over the "Puppies" tab to navigate to the size you are looking for.  Each size tab breaks-out to available pairs, and each pairing provides you with the estimated time the litter will be born and the reservation list.  We sell puppies everyday and keep a master list in our office.  Our online lists are updated frequently, but the best way to check availability is to fill out an online application and respond to us about scheduling a phone call. 
Do you have any trained doodles available?
Trained reservations are made by clients many, many months in advance. Clients reserve a puppy, and then select to add training on.  You may read about training reservations on our website.
To reserve a puppy that you may have trained, please begin our process by filling out our application.
What is the process for getting on a reservation list for a puppy?
A full description of our process can be found here: http://crossfielddoodles.com/adoption-process/
In short, as soon as you decide you want to bring a Crossfield Doodle into your home, start by filling out an online application. We will contact you about scheduling a call, and go from there. Our lists are about 75% full by the time puppies are born. The first half of our lists are full well in advance of 6 months in most cases. If you have a size, color or gender preference, we recommend you begin as early as you can.
Can you just email me about puppies you have available?
No, we work through a system of applications. We receive an average of 2 applications, 5 phone calls, and 2 emails each day about available puppies (this is in addition to the 30 to 40 clients currently on reservation lists for future puppies, the 10 to 20 clients waiting on a puppy that is growing-up before home-going, and the scores of clients we keep in contact with over several years of successful breeding providing classy companions to families just like your own.) In order to work through these clients and get to the ones that are most interested in a Crossfield Doodle, we only schedule calls with clients that have submitted an online application.
There is only a "WAITLIST" spot open on the list I'm interested in, how do I get on the Waitlist?
Please fill-out our online application and notify us you are interested on being on the waitlist for your selected litter.
We will schedule a call with you to get your contract in process. Waitlist spots are held with a $150 deposit. Waitlist deposits are refundable IF there is no pick available to you when picks take place at 6 weeks.
Should you not be happy with the pick available to you at 6 weeks, you may roll your $150 Waitlist Deposit over to any other list by adding an additional $150 to hold a spot on any current reservation list.
What is a deposit and when do I submit it?
After you fill out your application, and we give you a phone call to determine what list you want to be on, we will send you a contract AND invoice. Returning your contract and deposit of $300 will hold your spot on the reservation list. If, we have not received your deposit and/or signed contract in a timely fashion we will remove you from our office list. You will not see your spot reserved online until payments have been received and cleared (and generally, website updates take place many weeks later due to the volume of applicants we work with on a weekly basis.)
Deposits are non-refundable, but they do transfer to any current or future list within either Crossfield Doodles or Crossfield Doodles down South. We accept Venmo, or a personal check payment for a deposit as well as future payments.
Why are deposits non-refundable?
At Crossfield Doodles, you not only find a puppy that will far exceed your expectations, you will also find our customer care to be far above that which you will receive from most any other breeder.
We work diligently with each family. Your first interaction with Crossfield usually begins when you submit an application.  Office staff process your application and schedule you for a call.  Our client managers, Rochelle or Christy will then give you a call to find out what questions you have.  We then seek to assess your desires and situate you a reservation list that matches your situation. 
We return your information to the office staff, to draw up a contract for you and invoice you for your deposit. It is not uncommon for clients to have further questions which they send by text or email and we engage our time each week answering these questions.  These initial steps have already taken hours of time on the part of our paid staff, but until you submit your deposit, those costs are free to you. 
We ask for a very low deposit. It is not unusual for a breeder to charge $500 for a non-refundable deposit.  We believe that the $300 accurately represents the amount of time we have spent with each family prior to puppy's arrival.   Therefore, we have decided to keep the deposit at what we feel is a very fair cost of $300.
At times, clients will need to make the decision to withdraw from a list due to family situation, or merely a change in mind. While each client is certainly able to make the decision as best suits their families' needs, we feel it is a fair consideration that paid staff has engaged in hours of service to just maintain a high quality of customer service.  Therefore, the deposit is non-refundable.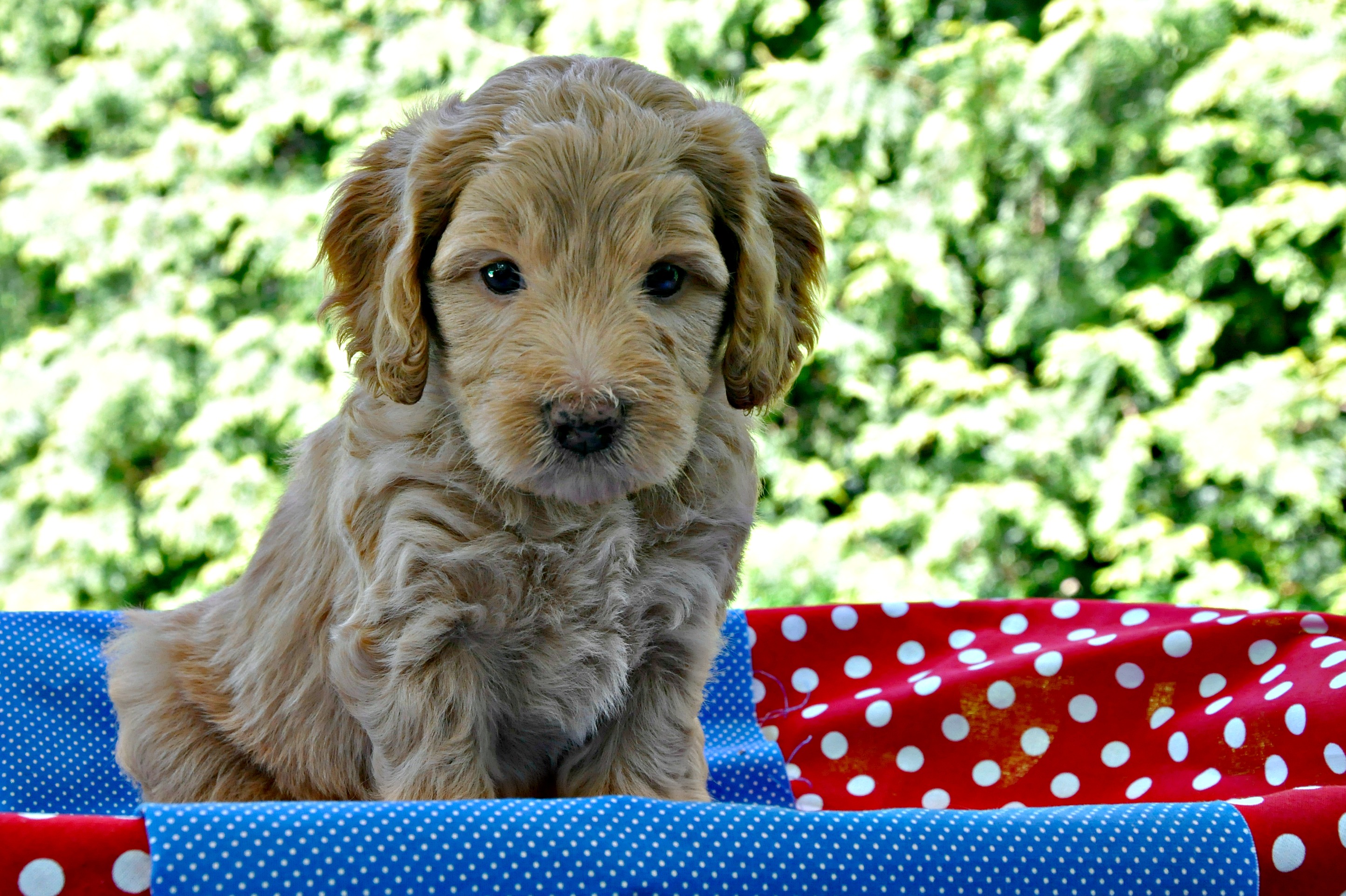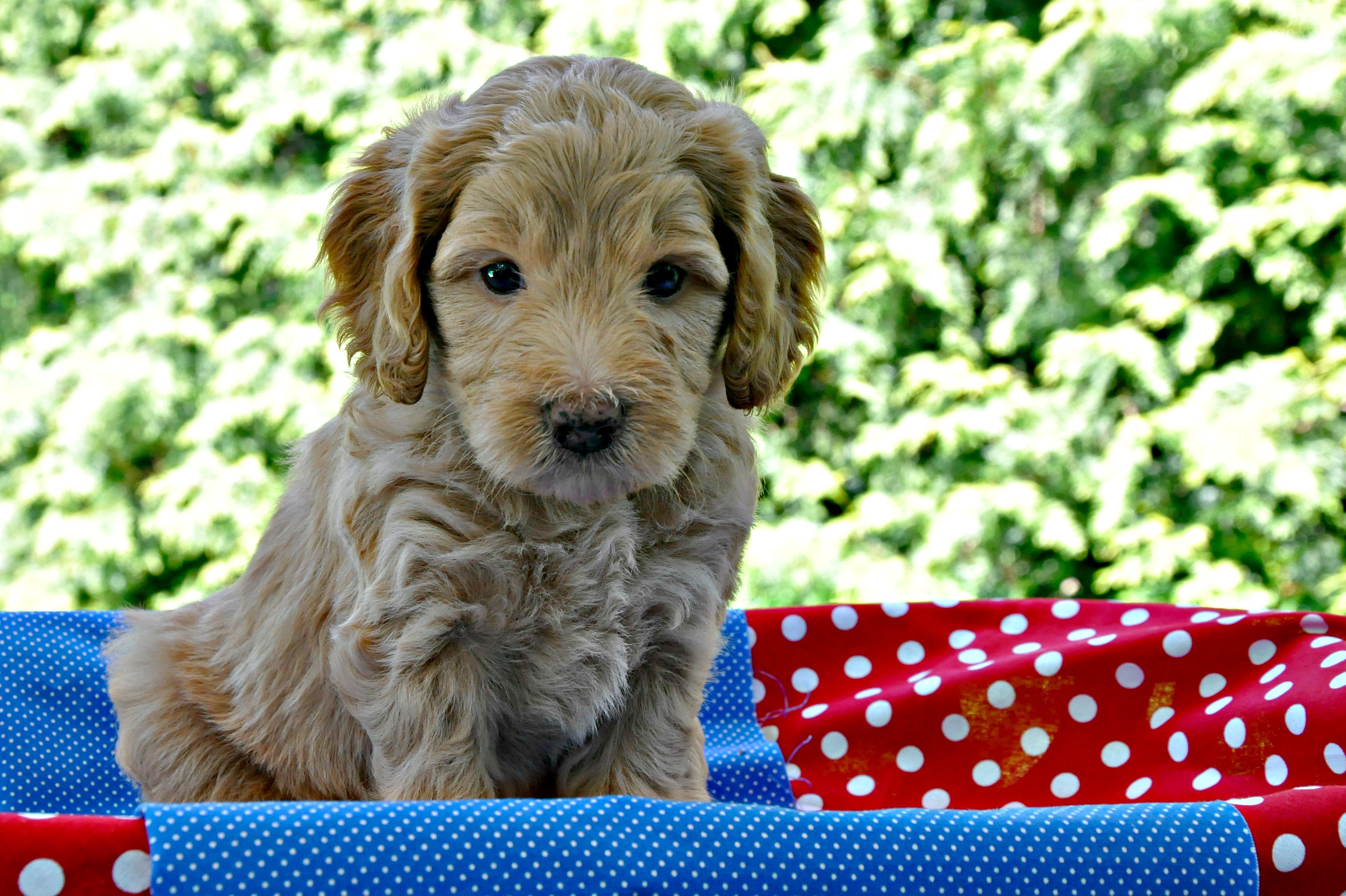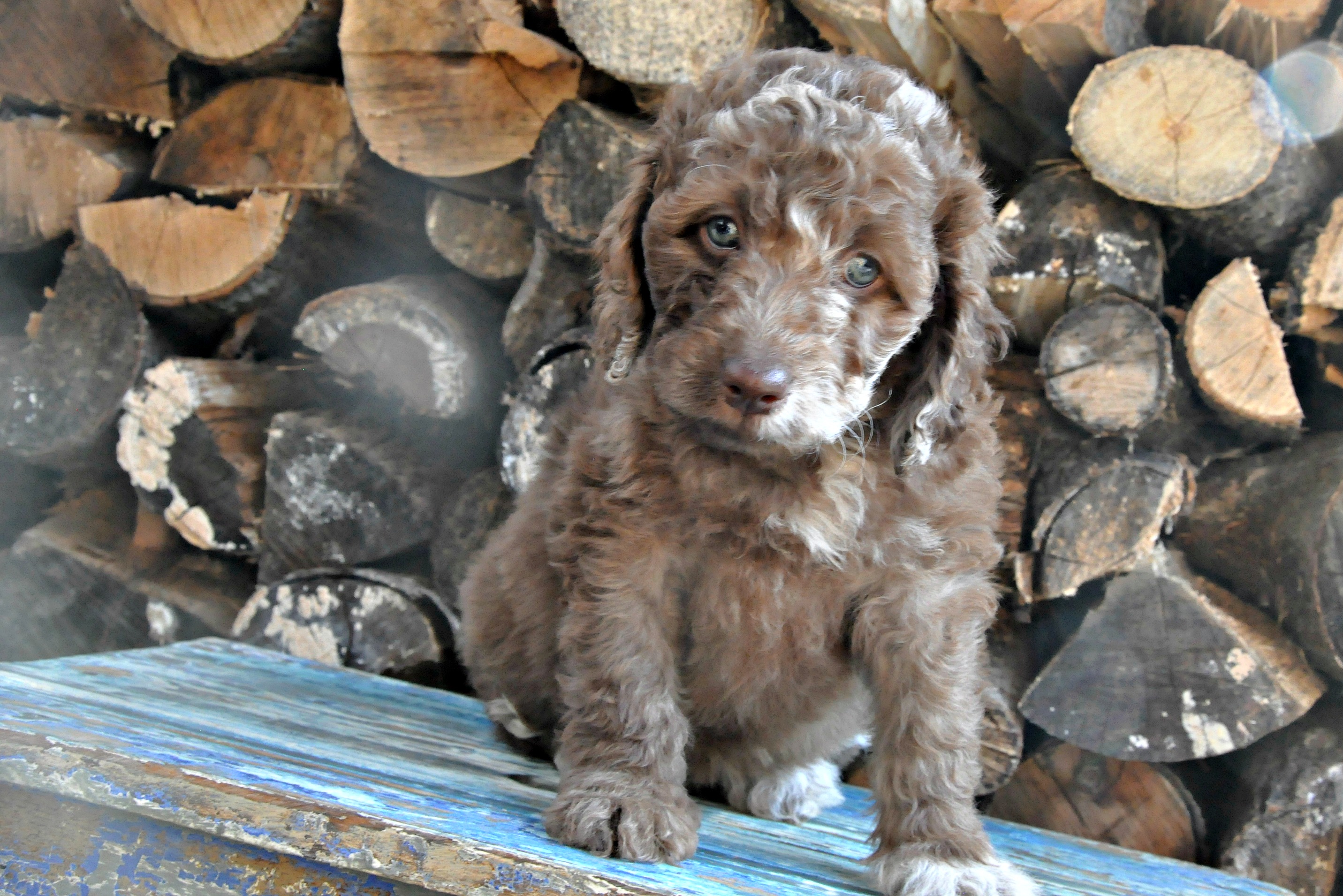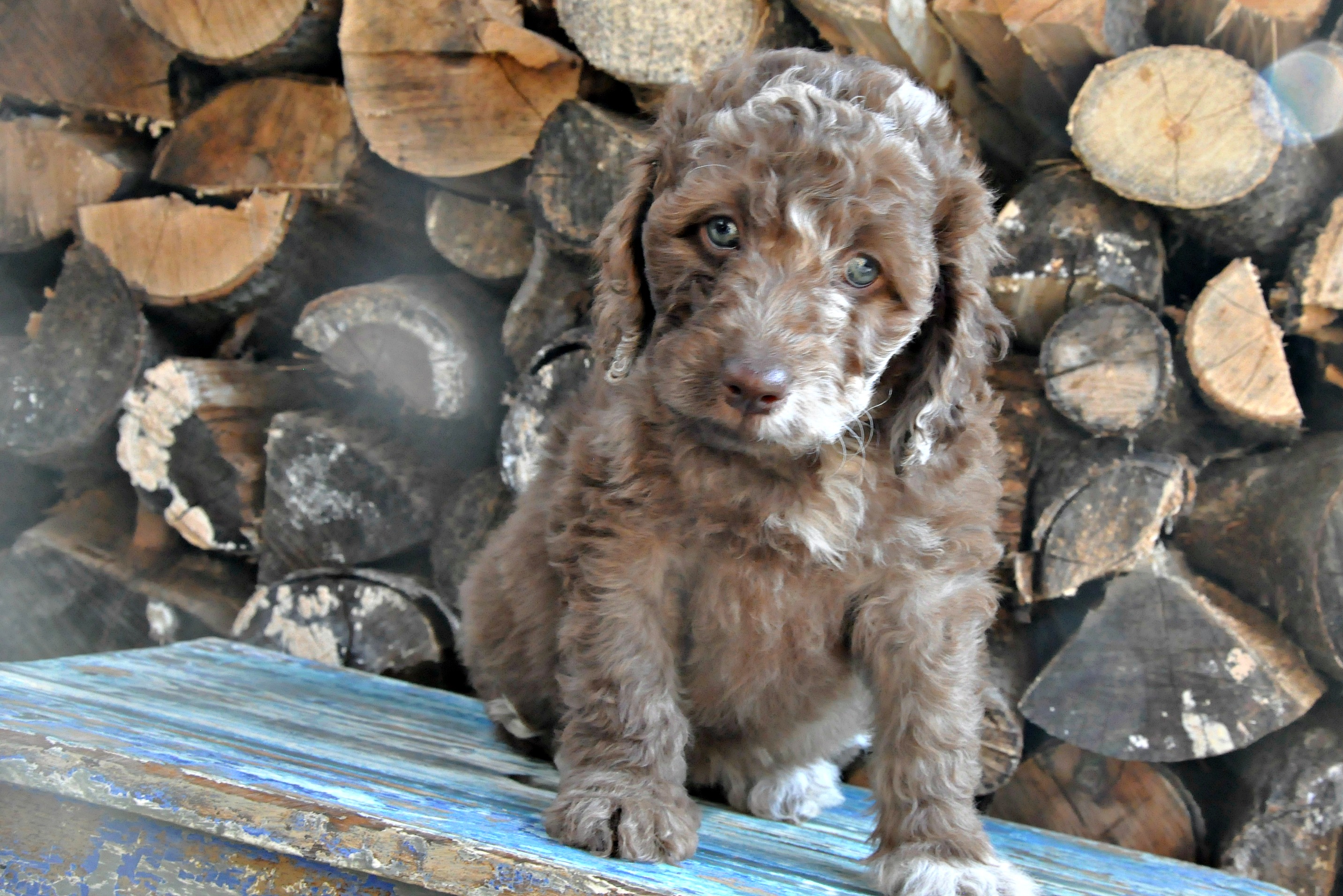 I only want a male/female. What are my chances of getting what I want?
My mom had a saying, "You get what you get, and you don't get upset!" Ultrasounds can show us a beating heart and spine, but we do not know what genders we get till puppies arrive. We have had a litter of all 7 males…a litter of 8 females and 1 male…and everything in between! We do not write contracts for particular preferences expressed by clients such as: "Brown and White parti" or "Black, Female" or "Calm, Chocolate, Male." Our contracts are written for the pick number. If we have sold picks 1 and 2 to clients that contacted us before you, your contract will be written for "Pick 3". If, when the litter is born, you do not like your options, you are free to move your deposit to any available current or future list. If, at six week picks, you are not happy with your available selection, you are free to move your deposit to any available current or future list. Deposits are non-refundable. We are confident that at some time in the near future you will find exactly what you are looking for.
Are there differences between a male or female?
If there are, we have not seen them. Properly bred and well-socialized doodles are instinctively a companion driven breed. Once spayed/neutered a male will not act out his male-ness unless there is a female (in season, thus un-spayed) around. Spayed/Neutered doodles combine well with any other sex canines. Doodles are very smart and because we keep our doodles with other older dogs till they go home to you, they learn proper socialization from other canines. 
When considering adding one of our Doodles to your home populated with one or more other canines, the best mix is either a male + female OR, a male + male. Our third choice would be female + female.  This works when you have a very submissive female (and many of our doodles are because their moms have taught them to be.)  But we would suggest this choice as a last preference.
We are looking for a service/therapy dog, what are our options?
We do have several dogs that have worked long and hard to become service or therapy dogs.
We DO NOT train or sell service or therapy dogs.
We will work with your selected trainer to begin a selection process. Your trainer is the best person to advise you of your needs. We will speak with your trainer about a selection process that works for your needs.
We do not begin working with clients on selecting a size or reservation list for a suitable service/therapy dog until we have spoken to the trainer.
We will do one initial 15-minute consultation for FREE with your trainer to determine if we will have something available to meet your needs and your timeframe.
We charge an additional $500 for assisting trainers. If your puppy price is $2800, we will charge $3300 in order to defray the costs associated with the additional time we will spend in assessment and evaluation in conjunction with your trainer for puppy selection.
We are an allergy family. Can you advise us?
So are we! We get it! Yes, we are happy to work with allergy clients. Here is what we offer: Would you like a sample allergy T-shirt? Once we identify which litter you are most interested in, we can ship you a T-shirt specific to the litter dander and saliva for a $75 fee. This includes the T-shirt, procuring the sample and shipping.
We also include a special clause for allergy clients in our contract. Here is the wording: "In the event that the Buyer needs to return the dog due to an allergic reaction to dander or saliva by someone in the immediate family who resides in the home, Buyer has 10 days to make arrangements with Crossfield Doodles to return the dog. The dog must be in a health condition equal to that which it was purchased in. Upon return of a healthy dog, Buyer may either ask for a refund of the dog (minus $150 of the original deposit) or to transfer all monies to another litter."
Do you have any adult dogs available at this time?
Usually we do not have adults immediately available. However, we are happy to speak to you to find out what size and timeline you are looking at. If you would like to schedule a call with us, please begin by filling out our online application and indicate you are looking for a Trained ADULT. If you are interested in putting your name on a waitlist, we are happy to discuss this option. We have had at least one adult available on average every 6-9 months, so chances are, if you want to be on the list you may see availability. 
As a follow-up, where do these older dogs come from? For years, Crossfield Doodles have sold 100% of our puppies at 8/11 weeks of age. Occasionally, we have had the opportunity to work with other breeders who may not be marketing their litters as well as we do or who have gotten behind due to a health issue or family emergency, and therefore, they have older puppies available. We have, in the past, purchased older puppies and spent several weeks training them to become great pets. We only work with breeders we have bought our own breeders from, or to whom we have sold our breeders to so that we are comfortable with their genetic testing and temperament.
Sometimes we retire our breeders. Most often, those retired breeders are already in their guardian homes. However, if we have one available, we could let you know about that opportunity.
A final opportunity we may discuss with you, depending on availability, is a re-homing opportunity. We ask all our clients to reach-out to us in the event of a family decision to re-home their Crossfield Doodle. Most of the time, an emergent need within the family has been the reason (health diagnosis or life event.) Again, we cannot plan on these opportunities, but they do transpire, and we usually have a client waiting for a trained doodle ready to match when it does happen.
If you would like to inquire about an older dog, submit an online application, and indicate you are most interested in speaking about an older dog. We will schedule a call with you and we will be happy to discuss what if any options are available to you.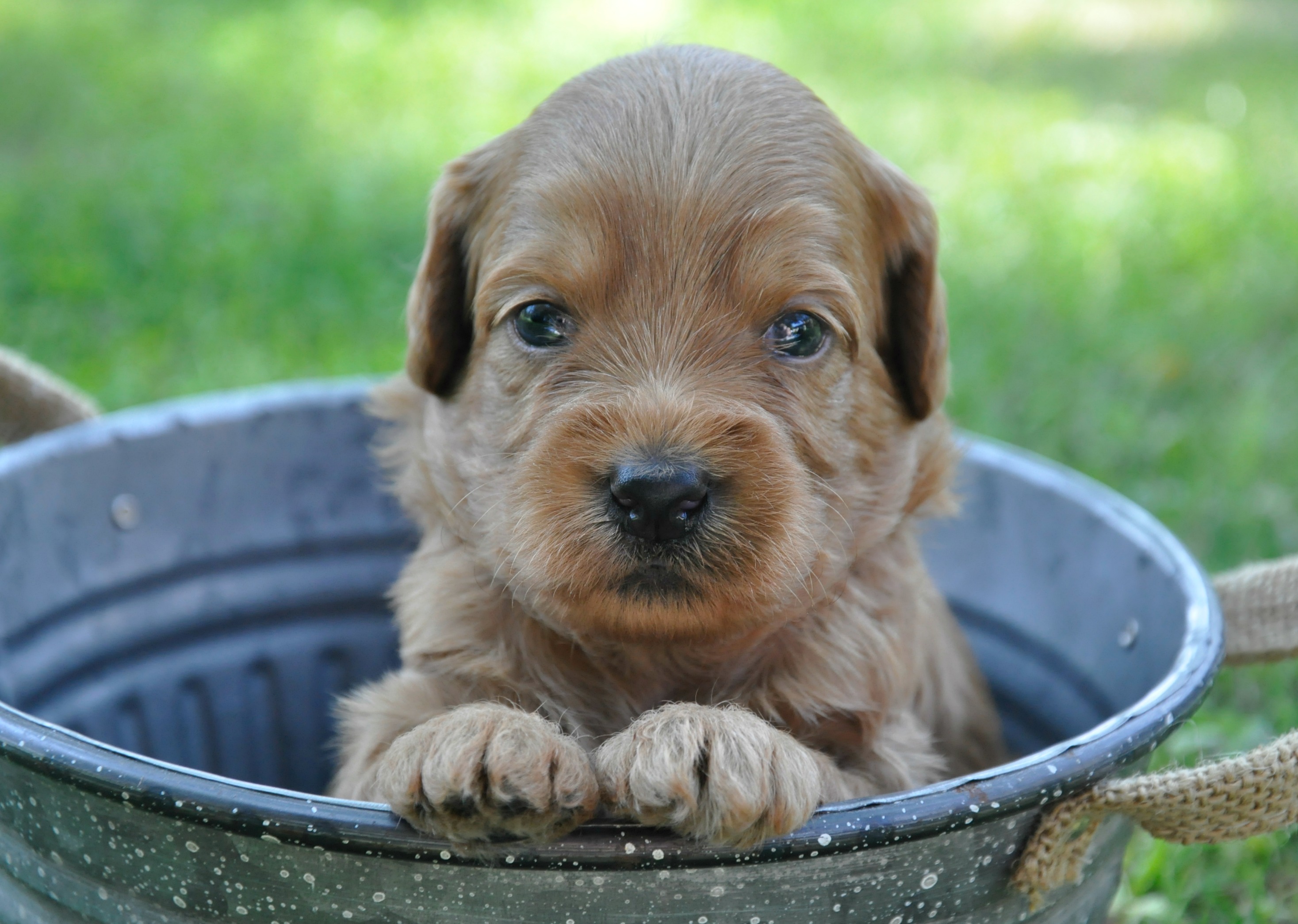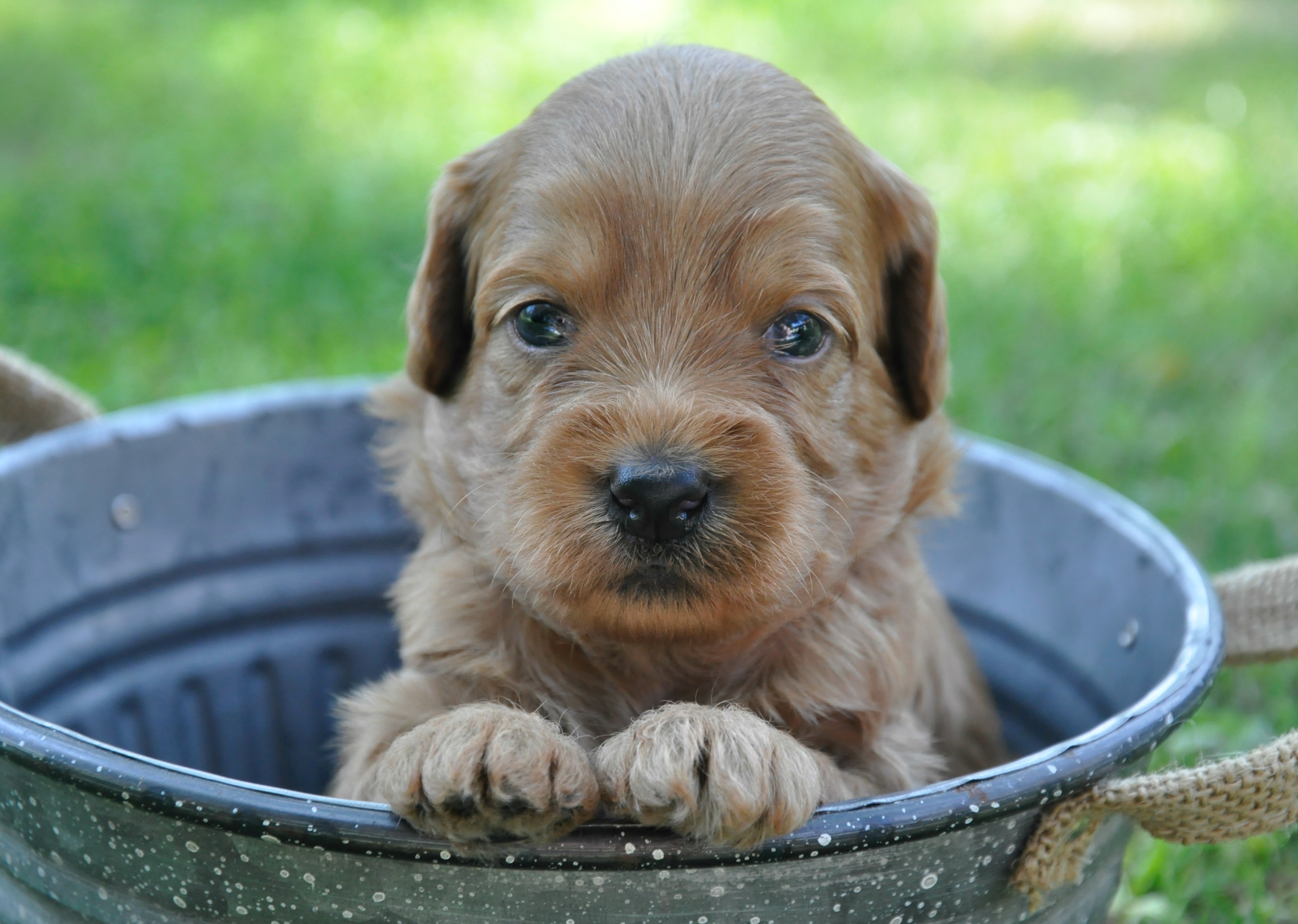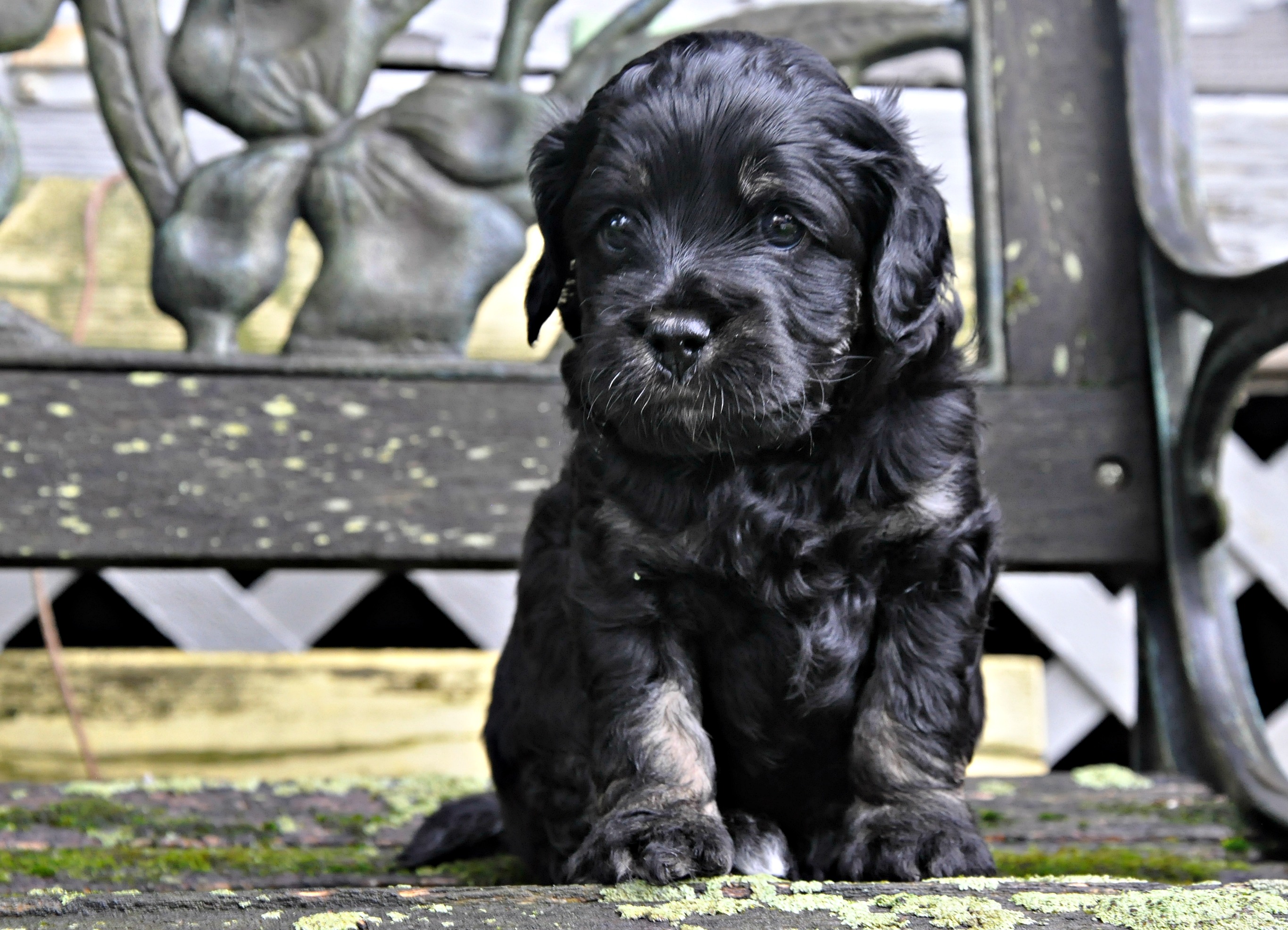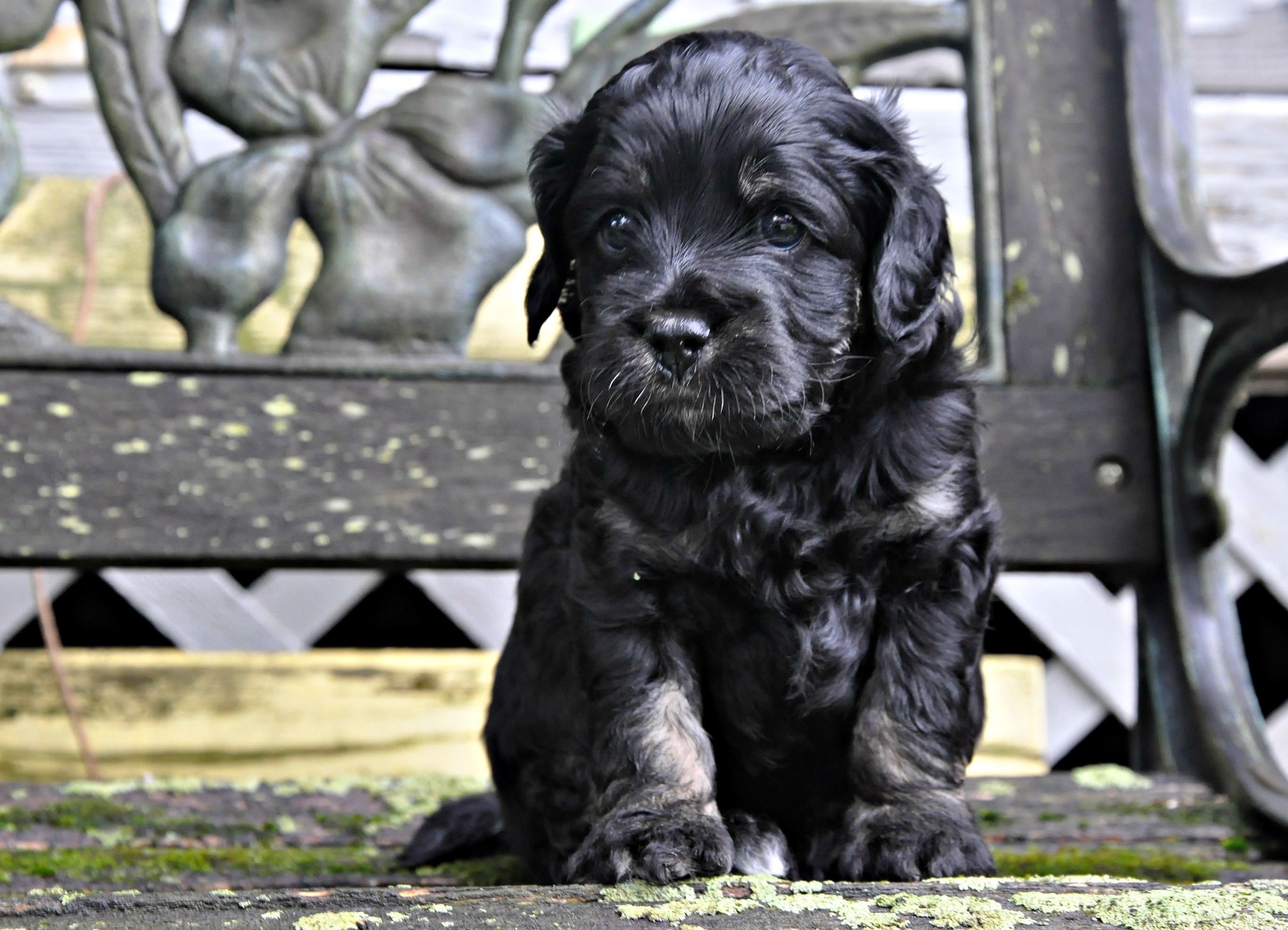 Can we visit?
We insure all our breeders are cared for in individual Guardian Homes. We are not set-up like a kennel. Our breeders and available puppies are cared for in a families' living quarters. Thanks for understanding that we cannot invite visitors to private homes.
After submitting an online application, we will schedule a call with you. During that call, if you would like to visit during one of our going home weekends or during a six-week pick visitation for another litter, we can talk with you about that opportunity. We welcome visits during those two times.
Do your puppies get along with cats or other pets?
Absolutely. First, let's just be clear: a cat is in charge. The cat will set the limits and the doodle will learn he/she better respect the limits set by the feline. That is all.
Second, Doodles are very smart. They learn quickly to submit to other dogs. If your doodle is an alpha, it will be a smart alpha. They learn their place quickly in a world populated by other canines.
Third, you need to be involved in continuing to properly socialize your doodle with other animals and small children. If you neglect to do so from weeks 8 to 16, you can promote a skittish or hyper; a fearful or aggressive dog. Take your new puppy to puppy playtime, invite friends over that have children who are familiar with dogs, invite other friends to bring their dog over to play with your doodle. These are proper and important steps you must take in the first busy weeks of puppy ownership to continue to socialize as we have begun.
Do you do Genetic Testing?
Absolutely! In fact, we would strongly discourage you from purchasing a Doodle from any breeder unless they can supply Clear/Normal Genetic Testing results on their breeders for at least the following: Exercise Induced Collapse (EIC), Von Willebrand (vW), and Progressive Retinal Atrophy (PRA). Another valuable test for breeders is Improper Coat/Furnishings. If your breeder does not know what these tests are, then you are not dealing with a reputable breeder!
We share most all of our Genetic Testing through PawPrints on our own Breeder Page.
Some of our breeders have full panels, but some do not. This is because we have genetically tested the parentage and both mom & dad are clear.  Thus, we know the breeder is also clear: Clear by parentage.