We are so excited for you and your family!
This portal is designed specifically for you to access useful information and content like shopping guides, dog health information, crate training and answers to our most frequently asked questions. We hope this information will be helpful to you! We are happy you are a part of our #CFD family!
Follow us on facebook
Follow our posts and watch for pics and video of your puppy and his siblings! Comment or ask questions!
Facebook Group: Doodlepack
We welcome dialogue from our Crossfield Family! Connect with others who will own siblings of your doodle. There is a wealth of information on that page to help you with training and get you connected to families close to you. In the group, there is a search function on the left where you can type in a topic like "training" or "recommendations" and see what posts have already covered questions you may have!
Facebook Group CFD #doodlepack
CROSSFIELD DOODLES FAMILY
The day your take your puppy home is the day you become a part of the Crossfield Doodle Family. We hope you will keep in touch! Send us Christmas Cards with your Crossfield Doodle. Update us with pics of your Classy Companion. We welcome your stories, anecdotes, questions, and photos! We also hope you will join us on some Doodle Romps! We will email you details about these as we schedule them, but they will provide your doodle with an opportunity to socialize with local doodles and perhaps even meet his parents or siblings!
What's Next?
You've done your research, you've received your deposit and contract…but NOW WHAT? While you anxiously wait for your puppy, we know you must have questions about the adoption process with Crossfield Doodles! We hope this document will provide you with a timeline of events to expect when on a reservation list for a specific litter.
When are the puppies from our litter expected?
The first thing to consider: Has the pair had a successful breeding? Each female has a cycle that we have to wait on.  While we know *on average, every female cycles anywhere from every 4 to 9 months, we have to wait on Mother Nature with each female.  Breedings, generally take place anywhere from the 7
th
to the 20
th
day of a girls' cycle.  We cannot start any sort of official clock until breeding has occurred.  Once breeding occurs, we notify everyone on the reservation list within a week with projected dates for puppy arrival, 6 week picks, 8 week going home, and Trained going home.  Many times, the season affects these cycles, so we may be breeding several females over a space of a couple of weeks, depending on swings and shifts in the weather.  Please use this helpful guide when calculating on your own:
Breeding Day—Day ZERO
DUE (Arrival can be +/- 5 days from this date)-Day 63/Week 9
6 week visitation-Day 105/Week 15
8 week going home-Day 119/Week 17
Trained going home-Day 140/Week 20
We all like to plan! As you can see from the timing above, we can only provide you with a 20-week planning guide.  Before Breeding Day, all our estimates are just that, an estimate based on your girl's history.  We track everything, so we know when to project, but our projections are usually based on a season or a one-to-three-month window (i.e. "April to May" or "Spring of 2018").  Once a girl has a litter, we will project when her next season will be, but we are only basing that on what she has done in the past.  Sometimes seasons come VERY early; sometimes they come VERY late.  If we could control them…well, we'd be doing more than breeding dogs with that hidden talent!
We are often asked about planning for vacation during the season your puppies are expected. We wish we could provide you with more certainty, but if we have not had a breeding, we cannot give you anything more than our informed projections.  We recommend planning vacations according to the 17-to-20 week guide.  Has your girl bred yet?  If she has NOT, you have at least 4 months to get a vacation in before you must think about bringing home a puppy.  If she has, the clock is ticking!
If you must make plans further out than 4 months, we recommend finding a back-up plan for your puppy who may be very young. If you cannot take your puppy with you, you will need to consider either a private sitter or family member to care for your puppy.  Most kennels do not take puppies younger than 6 months of age.  We recommend Positively Puppy for this type of care.  Monique, of Positively Puppy trains many of our trained puppies and she accepts reservations from Crossfield Doodles' clients, even if the puppy is less-than 6 months of age (subject to her availability).
What happens if I am pick #7 and only 6 puppies are born?
This is a good question. First, let me explain our lists.  Each girl has her *normal for what we expect her to have as far as litter size goes.  Some of our girls have 5 puppies on average, some have 6 to 9, some have 7 every single time.  With years of breeding experience, and knowing our girls, we take each girl's records into consideration before we even begin taking reservations.  The total number of reservations on a girl is not an arbitrary number.  It is her average, minus 1, so that we do not ever over estimate or take a reservation for a puppy we really do not expect to see produced.
Then, we always maintain Breeder Pick on every list. We maintain this pick for at least 3 to 6 weeks after puppies arrive.  This ensures that we as breeders, and the trusted breeders we work with, have access to genetics, color, coat and temperament selections that improve and sustain a market of well-bred Doodles for years to come.  However, there are times that we release this pick because we or others we work with do not need a breeder.  In this case, the entire list of reservations will all move *up one place.  If, for some reason, a girl produces a much lower number of puppies than what we expect, we have, at times, made a choice to release our pick.  This is not a standard we are governed by, but a consideration that we maintain if the need arises.
If, in the end, there are fewer numbers of puppies than clients on a reservation list, please be assured your deposit always transfers! You can transfer to any other available spot within Crossfield Doodles or Crossfield Doodles down South.
Does your Lexus self service?
Well, that's an odd question to have on your puppy FAQ…
We believe that our program at Crossfield Doodles is the Premier Experience. We have spent years developing a fine pedigree which includes genetic testing and properly selected breeders.  We excel in every area of management here at CFD: client management, guardian home liaison, trainer liaison.  You receive attention, information, communication and even courtesy from anyone with whom you engage.  I'm not telling you that, I'm just repeating what our clients tell us.  We are referred and recommended by our clients and we are even referred by folks who have had to return a doodle to us due to some unforeseen circumstance.  We believe what we do should speak of excellence.  It's not just a job for us, it's a philosophy.
Therefore, we've produced excellent puppies. They have been well bred, and are well socialized.
However, you, as the client, must understand that when you receive a puppy at 8, 11 or 12 weeks of age, there is a continued maintenance you must engage in. Our puppies cannot self-train.  They are animals.  They might use their mouth to get what they want; they will want to keep their den clean, but their recent transition may have them confused on where that den actually is; they may tear things up, chew on things, eat things; they may try to eat from the counter; they may walk on tables.  These are just the tip of the iceberg of possible things you may encounter during the first weeks/months of puppy ownership. It is exhausting bringing a puppy home (even one that is trained).  Is. Work.
As important as getting your new puppy vaccinated, maintaining your pup's socialization is equally important. You must provide opportunities for your puppy to continue to interact with other dogs.  Literally, weeks 8 to 16 are the most vital and necessary developmental stages through which a puppy MUST engage with other dogs.
You must not allow bad behavior. Please don't allow nipping on your children.  Please do not allow your puppy to ever guard a resource: food, water, paper towel, bone, sock, shoe…anything.  Educate yourself in advance about "Resource Guarding" because if it happens you need to know what to do about it.  My first question when I hear about this with a dog is, "How long has your puppy been doing this?"  The longer they have had opportunity to control their family through growling or biting, the harder you will have to work (almost exponentially) to modify this behavior.  Please reach out and get help the first time.  If you stop this behavior the first or second time, you have a much better chance to eradicate it.
If you haven't yet, please check out our main page frequently asked questions as well! We do our best to prepare you with us much information as possible.
Click here to read more. 
Have you paid your first and second payment(s)?
If you have not yet paid these invoices, please search your inbox for "Crossfield Doodles" and you should be able to locate your outstanding invoices. You can also try searching for "Go Daddy" which is the bookkeeping service your invoices are generated from or even the word "invoice" to locate them. Thank you for your prompt attention to any overdue payments!
I believe I paid! Have you received my payment?
Please understand that all payments made by check, must be received here, then deposited.  Clear the bank, allow for download and then manual reconcile.  This could take about 7-9 days from the date you mailed payment.  If you mailed your payment at or close to the due date, and then received an overdue notice, it may be due to these delays.  

In the same way, Venmo payments take 2-3 business days to clear our bank (more if made on the weekend).  Then, they must be manually downloaded and reconciled.  

We always do reconcile as soon as possible, and always prior to home going.  If, for any reason, you may have an outstanding balance, we will notify you prior to home going to make sure we get this secured in a reasonable time.

We do not prefer either of these payment options.  Truly, either one works just as well as the other.  We have never (to date) had a lost payment in the mail.

Payments may also be made in cash.
What is the process for selecting my puppy?
We will schedule a 6 week visitation on a Saturday a few days before or after your puppy turns 6 weeks of age. We will schedule your visitation time in order of your picks; first picks will come first thing the in morning, second pick, arrives 30 minutes later, and so on to the final pick of the litter. We ask you to arrive on time and arrive with a narrow list of puppies you are interested in visiting with. You will be able to take the 30 minute window of time to play with puppies and see how they interact with others. Ask us questions if you have any prepared. We will ask you to make your selection at the end of that visitation time and then, if you would like to stay longer and play, you are welcome to do so.
Can I stay after my pick time?
Yes, you are welcome to stay after your pick time and play with puppies!!
What if I can't make visitation time?
While we would love to accommodate every soccer tournament, rugby match and vacation that conflicts with our pre-scheduled visitations, it is 1.) Impossible for our own schedules, and 2.) Not the best scenario for the puppies. We are not a kennel, as such, and that means our puppies live in homes with their mother and family members. Visitations, home goings and trained pup home goings all take a coordinated effort on the parts of SEVERAL people to make happen. If you are unable to come on your scheduled visitation day, we are truly sorry, but a re-scheduled visitation is not something we offer.
If you cannot come, please make yourself available for a short phone call so we can talk you through available puppies and let you make your selection. We will be calling you if you are unable to attend for your specified time and talk you through puppies available to you for your time.
We are coming to pick our puppy, can you tell us about each puppy and describe their temperament?
First, it is going to depend on how old the puppies are. If you litter is less than 6 weeks of age, we really do not share much about their temperament because so much is changing for them.  They may not hear well yet.  They may not see clearly yet.  They are still learning that their tail is like a 5
th
appendage they have to learn to master.  All of these things can affect their temperament, so we do not want to make a hasty decision about a puppy.
We schedule our Puppy Picks weekend around 6 weeks of age. This provides us with the opportunity to present the best developed puppy to you for choice.  Sometimes, even we are surprised by how puppies respond on Picks days.
The best information we can provide is during your visit on Picks Day. We've made periodic visits to the guardian home to observe your litter in their *pack.  We've taken the time to talk with the family whelping the litter in advance of that day, and we're also observing puppies on picks day in a new environment to add to that assessment.  When you arrive, we'll be able to help point-out characteristics that provide information to assist you with your pick.  We've done this numerous times, and we receive great feedback from clients that their pick day opportunity yields a great deal of helpful information.  Many come with a list of questions, and we get to work with the litter to help the family make the best selection possible for their situation.
We highly recommend reading the information on this page. When we make our visits to guardian homes, we are looking for these things as well.  The most important thing to consider is your own family so that you fully understand what you are looking for in a puppy. https://www.volhard.com/pages/pat.php
Each breeder is going to look different, so while we do not completely follow, agree or endorse all that is discussed @volhard.com, we do practice the basics.
No, we do not do formal assessments of our entire litter. Yes, we do assess the litter.  There are some key things that we realize and observe that show up most frequently in our breed.  Our breed does not generally have a high prey instinct (chase the paper test); but, they are very social (social attraction & following).  Additionally, because we handle them many times each day, and socialize them abundantly, they are generally quite okay with sounds and stimuli.  We look at a handful of these key tests when we visit/assess litters.  If we have a puppy with mostly 1's & 2's, we just are not going to offer this puppy to clients.  A 1 or 2 in many of the categories is "off-the-grid" in the doodle world.  We'll see red flags weeks before picks if that is the case, and we've seen enough puppies to know what is normal for our breed.  We know the *look , *health and *temperament we want for Crossfield Doodles.  If a puppy is an outlier in any of these areas, we simply are not going to offer him for picks at 6 weeks.  He may need to spend some time with a trainer before he's ready in order to iron out some his tendencies.  Has this happened? Nope (thankfully!)  But, if it ever did, this is how we would manage it.
What we see at Crossfield are puppies that:
Score mostly 2's & 3's: These are very playful, and have lots of fun energy. We recommend them to families who want to continue to train them in an environment where there are other dogs around who can also help socialize them.  They will rule in the home, if they are not properly trained and socialized.  These are great in families with other pets and with second-time owners. These are your running buddies, agility dogs, show dogs and dogs who will work for attention or treat. Key tests: Stability, Sound, Following & Retrieving.
Score mostly 3's, 4's & 5's: These are the life of the party pups. They have great energy but also want to please.  They will also benefit from further training.  If there are a few 2's in their testing, they may lean toward leadership, and be better with a 2nd dog family.  But if they have few-to-no 2's, they are going to do just fine in any family.  If there are some 5's in there, they may do well with another dog in the home to bolster their confidence.  My Scarlette is this dog, she would lack confidence if Zoe had not supported her from an early age.  Most, if not all of our breeders are from this zone (and they usually have a scattering of 5's added in for a *low key touch.)  We believe by choosing from this zone in temperament, we are breeding in a way that helps eliminate mostly 1's and mostly 6's.  Key tests: Following, Social attraction, Restraint, Stability & Sound
Score mostly 5's & 6's: These guys are what I refer to as the "lumps on the couch doods!"  *insert "meh" emoji here.  They are the last to come out of the box (when they want to) and usually eat lots!  They are really happy to be held, for a very long time, and are not great on commands like "come" or "fetch".  Nope, they kinda have their own tune, and march to it.  Being Alpha is too much work for these guys.  They are goofy.  They are usually the ones being chewed on by the other pups in the litter and they lie there and take it.  It's too much expense of energy to fight off Mrs. Alfa who had some punch in her kibble this morning.  They are usually not very interested in training, and sometimes that means potty training.  Sometimes, quite the opposite, they are phenomenal on potty training because they do not want to soil their place where they spend most of time being: their bed/crate!  They want you to be very patient with them.  They may not chew much and may not be the brightest bulbs in the box, but they are usually very loving.  As you can see, there are some good plusses with these guys, but also there may be some strong negatives (depending on your family needs/lifestyle—for example, this is NOT a puppy who will learn to ever really enjoy going for a short job with you!)  This may be the best dog for a retired home—but, they may not really want to take long walks EVERY day.  Seriously, they are chilled out, and expect you to know that.  Key tests: Following, Stability, Sight, Sound, Retrieving.
Our interactions with you and the litter on picks day will help show you these characteristics and we feel confident you are going to be quiet pleased after you've had time to engage with your litter.
Sometimes, you are the one chosen. By that, I mean sometimes a pup chooses it's family. We've seen a very quiet reserved puppy, literally come alive for a family. You are who they are have been waiting for…and they let you know it.
What should I plan to bring to 6 week visitation?
Camera! Yes, you are welcome to take and post pictures as you wish!!!

Final Payment, if you have not already mailed it in or paid online.

Blanket or Toy WITH NAME ON IT for your puppy to take home at 8/11 weeks.
What is "Breeder Pick"?
A Breeder Pick is like a HOLD on the first and/or second pick of a litter. 
While we may not keep the pick for ourselves, we maintain these picks for many reasons:
We may be looking for a breeder from this particular pairing of Mom/Dad.

We may be in touch with other reputable breeders looking for a breeder.

Service and Therapy choices are always offered from Breeder Picks because trainers are looking for specific criteria that matches a specific service or therapy skill set.  If neither us, nor another breeder need a breeder from a litter, we will consider a service/therapy client if they have met criteria described later as pertains to those clients.

At will.  We also reserve the right to surrender our pick to any client.  While this is not the only circumstance, the most frequent surrender of breeder pick to a client is in the case of a client remaining for 8 to 10 months or more on a reservation list and their list having EITHER a missed heat, or missed breeding.  These are very infrequent, but when they occur, we do evaluate a particular list to see if we should offer our pick to those very patient and now disappointed clients. 
If we know the breeder pick prior to pick day, we will let you know. Otherwise, you will be informed of all available puppies upon your arrival.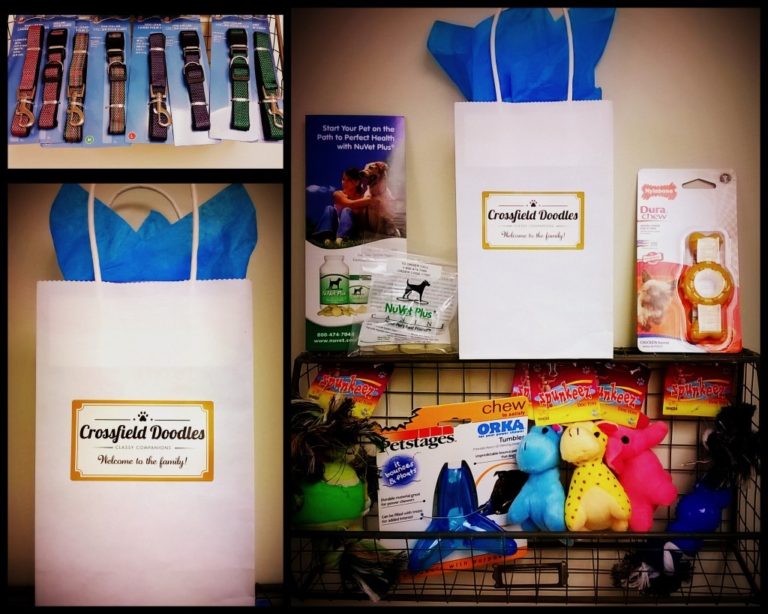 Going Home Packet
When we send you home with your bright puppy, we will also be sending a "Going Home Packet" with you as well. Some of the supplies you will find your packet include the following:
Small bag of the puppy food your pup is used to. If you want to use another high-quality pup food, transition slowly, mixing both for a couple of weeks, finally discontinuing use of the food Crossfield sends you.
NuVet supplement sample packet
Your puppy's current vaccination/worming/health record.
A toy with which your puppy and litter-mates have played. This gift will smell like your pup and litter-mates which can make the transition to a permanent home easier. We recommend you replace this toy with a sturdy dog-chew toy within a couple of days of bringing your new puppy home. But you may want to keep it for later on! It may become his favorite toy in a year or so!
Lifetime support if you have questions. This is our way of welcoming you to the Crossfield Doodle Family! You are as important to us after you make you purchase as you were before, so let's continue the conversation in the future!
How is my puppy doing?
Your pup's litter is sleeping together each night and doing very well. The litter sleeps from around 10:30 pm till 5:30 to 6:30 am.  Sleeping alone will be an adjustment they may have a tough time making.  Having a larger stuffed toy in just for night sleep will help with this.  Every family has its own style of dealing with the night sleep.  We see everything from clients sleeping on the floor beside the crate the first night to crates in the living room or even further away from everyone while puppy learns to be alone.  What we can assure you of, is that they WILL learn to sleep in their crate at night (much like an infant would in his crib!) 
Many folks ask if they need to take their pup out through the night.  We don't recommend that.  When our pups transfer to trainers, they are crated individually at night and they do not take walks during the night.  This teaches them quickly to hold their potty through the night.  As long as you have cut-off food and water in the early evening, and given multiple walks prior to bedtime, your pup should be physically able to make it through the night.  Generally, the crying/whining is a companionship need.  These are very normal in the first days of transitioning away from a pack to lone-dog life.  We recommend having the crate close to you for the first few nights if you feel your pup may need this support.  Some pups really don't need this, while others may have a strong pack dependence, and may need to to *feel you close by to establish security within their new pack.
.
Should we bring anything with us to homegoing?
You can bring a few old towels to hold the puppy in your lap when traveling back to their furever home!  We don't recommend a crate for your car ride home, unless it's absolutely necessary.  Holding puppy in your arms on your trip home is a great way to build immediate security and trust with your pup during this significant transition.  Most dogs are made to find comfort in the arms of their people.  The more you can touch, hold, pet and love-on your pup during their first few days/weeks at home, the better empowered they will be to develop a strong sense of security with their new pack *YOU!
Have questions during the first weeks at home?
We understand that taking a puppy home is a new, exciting experience for most families and can be a bit overwhelming! We work with two of our trainers to provide 1 FREE hour of virtual support to help make the transition as seamless as possible!  Most trainers value an offer like this at $75+, but we want to include this for free to our clients because we believe it can set you on a path to success with your Crossfield Doodle.
During this session of virtual support, you can ask any questions you may have, receive advice, and have the peace of mind to converse with someone who understands the transition you and your puppy may be experiencing in the first week!  We would recommend reaching out and scheduling this session soon!  Topics our trainers would be happy to support you with include: potty training, biting, crate training, leash walking, and general happy puppy behaviors you can encourage.
*This virtual support session must be scheduled within 3 weeks of taking your puppy home.
Will they have received any of their vaccinations at go-home date?
Yes, we do the age appropriate first round of distemper with our vet when we go for their 7 week check-up.  You will receive a medical card upon going home with this information in it for your vet.
Will they be coming home with a collar or should we purchase one to bring with us?
We do send them home with a leash and collar so no need to bring one with you unless you've picked one out you specifically want for your puppy!
What payments do I need to make before taking my puppy home?
Deposits are due in order to reserve your place on the reservation list.
When your litter has been born, we will invoice you all of your payments:
First Payment

(1/2 of your remaining balance):

Due when your puppy is 4 weeks of age.

Second Payment

(Remaining Balance): Due when your puppy is 6 weeks of age. 

Training Payment:

Due when your puppy is 8 weeks of age, if applicable. 
No puppy may leave if a client owes a remaining balance. All payments must be cleared by pick-up day or remaining balance must be paid in cash or cashier check.
—
Please understand that all payments made by check, must be received here, then deposited.  Clear the bank, allow for download and then manual reconcile.  This could take about 7-9 days from the date you mailed payment.  If you mailed your payment at or close to the due date, and then received an overdue notice, it may be due to these delays.

In the same way, Venmo payments take 2-3 business days to clear our bank (more if made on the weekend).  Then, they must be manually downloaded and reconciled.

We always do reconcile as soon as possible, and always prior to home going.  If, for any reason, you may have an outstanding balance, we will notify you prior to home going to make sure we get this secured in a reasonable time.

We do not prefer either of these payment options.  Truly, either one works just as well as the other.  We have never (to date) had a lost payment in the mail.

Payments may also be made in cash.
Get Ready for your Puppy!
Purchase Nuvet Plus
Purchase your first supply of NuVet Plus. We have been adding NuVet to your pup's kibble every day to insure he gets all the nutrients he needs. NuVet is part of your guarantee to insure you do all you can as well to keep puppy healthy.  While we are using powder right now due to supplying a full litter, you can order the wafers.
For your convenience, you may order directly from the manufacturer. You can also save an additional 15% and assure you never run out of NuVet by choosing the "AutoShip" option at check out. There will be a 3 day supply of this supplement which will come home with your puppy. NuVet is included as an important part of most reputable breeder's contracts. Please review your contract for further details.
North Clients
Start by calling 800-474-7044 and using Order Code: 17597, or ordering online at www.nuvet.com/17597.
South Clients
Start by calling 800-474-7044 and using Order Code: 33500, or ordering online at www.nuvet.com/33500.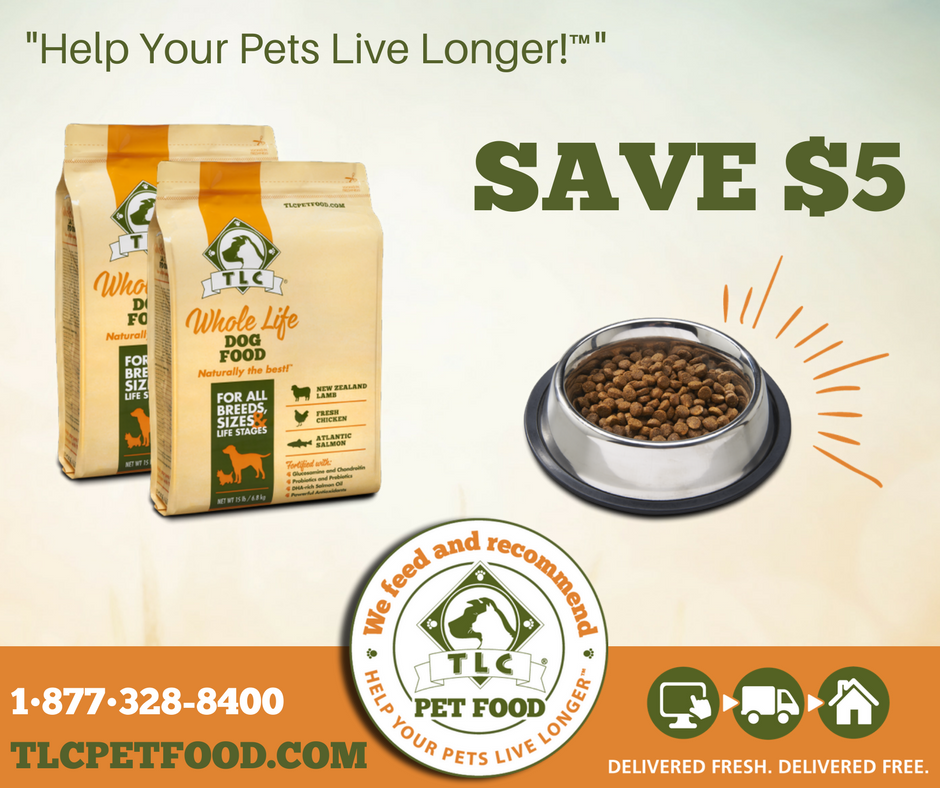 TLC Dog Food
We start your puppy off on TLC, an excellent all natural chow to keep puppy growing and keep his little GI stable during all the new transitions he is about to encounter. You will receive a small sample of this kibble for your pooch on his going home day. TLC is a whole life chow that provides live probiotic cultures. TLC gives you a cute little bag, measuring food scoop, poop bags with holder and a lot of other fun stuff. TLC is only available by ordering online through the distributor, but they make it easy with free shipping and automatic delivery. Here is a coupon code to get your started:
North Clients Click HERE for $5 OFF your first order!
South Clients Click HERE for $5 OFF your first order!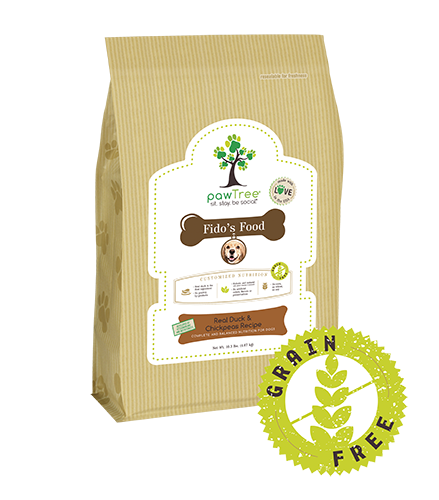 Paw Tree Dog Food
We LOVE this dog food and have had tremendous success with our dogs that have sensitive tummies or are sensitive to chicken/have chicken allergies. They also have chicken dog food if your dog is fine with that but we highly recommend the other options!
You can shop under "My Recommendations" for products we have used; but you can also shop the entire line under "Shop Dogs" as well!
Go Shopping
Being a puppy parent is a wonderful thing and our desire is to help you be prepared as possible before your new puppy joins your family! Please use this "Puppy Preparation Shopping Guide" to help you find items that will be essential to helping you become a doodle family!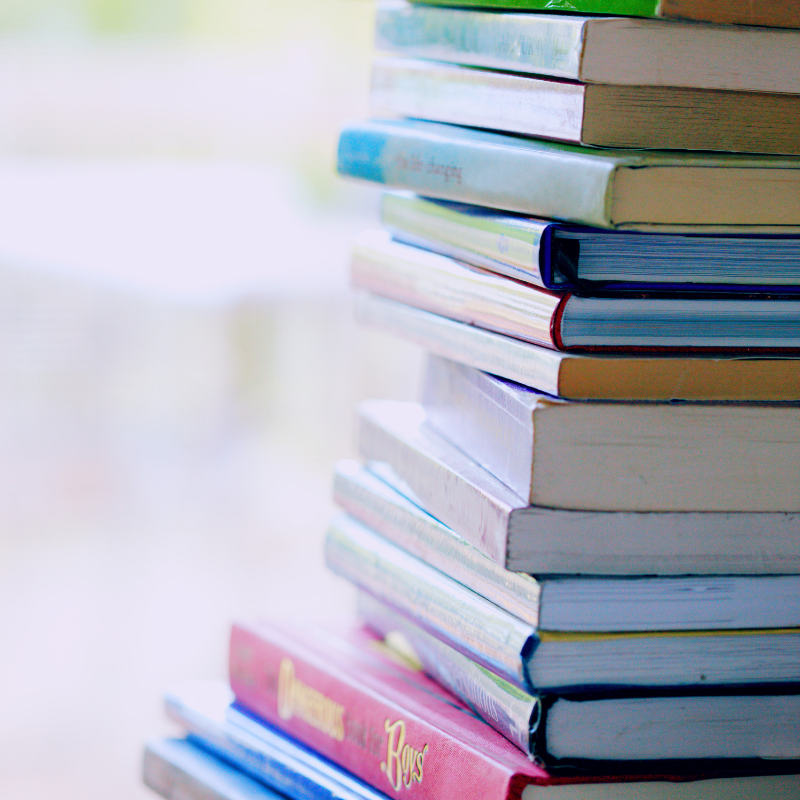 Consider Obedience Training
Consider some obedience training and schedule your first session (wait till your puppy has concluded his final round of vaccinations — around 16 weeks.) Think about the hard things like potty training, crate training, and obedience along with the fun things like toys, a bed, and treats!
Puppy Manners classes, Socialization classes, Citizenship classes and Agility classes are wonderful for Doodles! Since we service such a wide area, we recommend you search on google or ask your vet about centers they recommend for training. We'd love to see your pet in action, so please send us pictures of your doodle as he "shakes" and "rolls" his way into the hearts of others!
Select a Vet
Interview vets near you and choose a vet that you are happy with (we are happy to recommend a few, just give us a call!) Ask if your vet is willing to provide you with references of other doodles owners and give them a call to ask their opinion of the vet. Schedule your first visit within 3 days of taking your puppy home.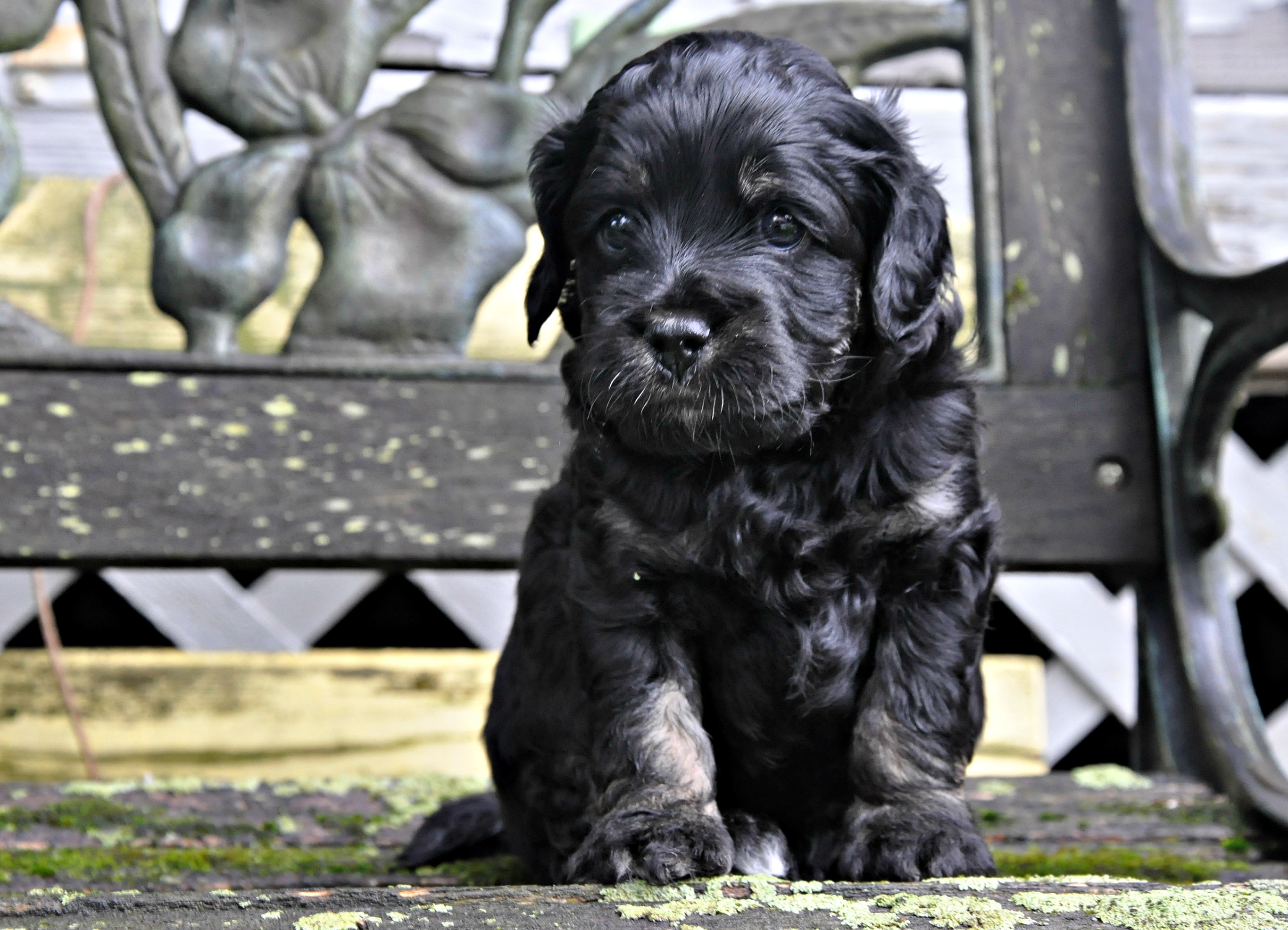 Download Puppy Schedule
We have put together a sample puppy schedule that has worked well with our doodle and doodle families and one we do follow in our training program.
Download Housebreaking 101
We understand that bringing a puppy into your home for the first time can be overwhelming! We hope these basic guidelines and "rules" will help outline some of the things to focus on with your doodle in an easy-to-digest way. Focus on the basics and the rest fall into place. 
Download Bell/Crate Training
Some of our homes have done extremely well with their puppies when implementing the bell/crate training methods outlined in this document. We encourage you to read through this information to give you further insight on how to effectively use a crate with your doodle in the coming weeks and months!
Download Dog Notes on Health
Our desire is to save you the extra expense and worry of a vet visit! Your puppy will be adjusting to a lot of things in the first few weeks which may bring with them all sorts of added stress and symptoms. We have compiled information in this document to help you understand symptoms to watch out for and things you can do at home more making the choice of a vet visit. We hope it will be helpful to your family!

When does a trained puppy come home?
We will provide a calendar for your litter within the first week of birth that gives you all the dates that pertain to visitation and going home of your litter. Puppies being held back for training are transferred to Puppy Kindergarten with our trainer at or around the age of 8 weeks. Puppies attend training for a full 3 weeks. Trained puppies go home on your litter's "Trained Puppy Going Home" scheduled day. Please reference emails to your litter for that information.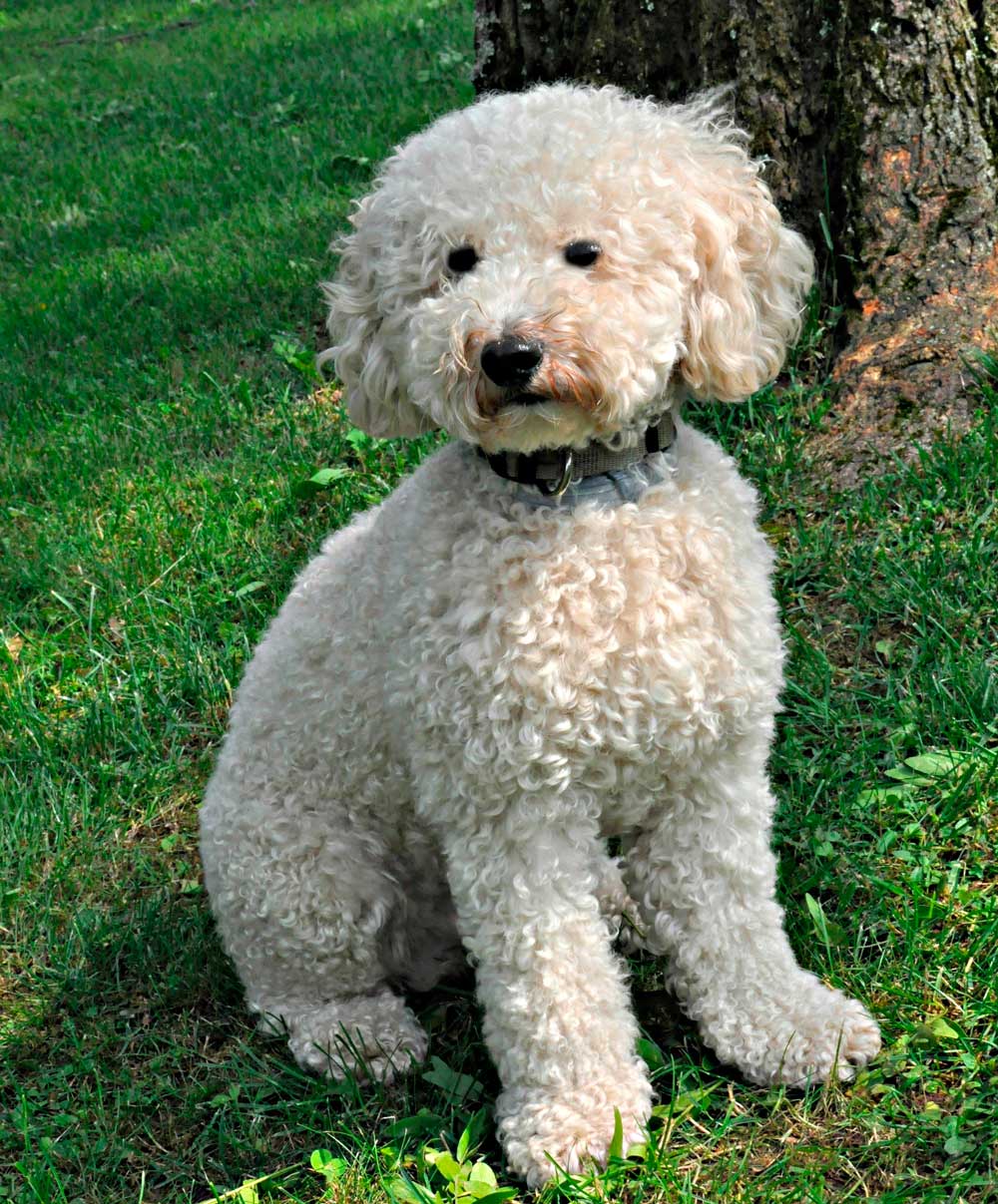 When do puppies transfer to our training program?
Puppies transfer to training at or around the 8 week going home date. At times, we may transfer puppies a few days early to training if their date of birth was early in a week (for instance, if they were born on a Monday, and they go home on a Saturday, they are actually 8 weeks and 6 days old on their home going day.)  So, we may transfer them to training at 7 weeks and 6 days if it is better for our overall schedule, business-wide.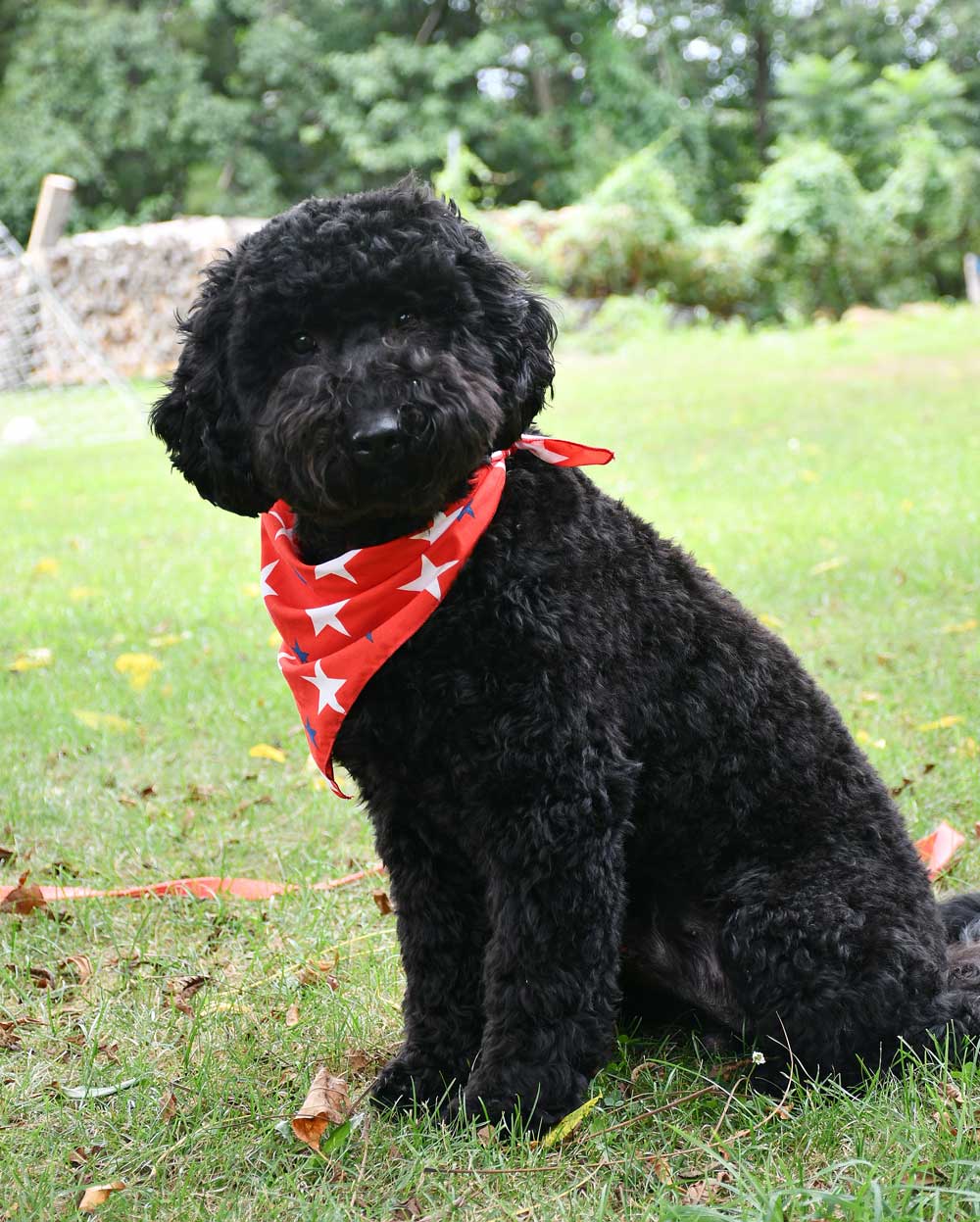 Will I get updates on my puppy's training?
Once your pup's litter mates go home, your puppy will transfer to his trainer!  We connect you with your trainer on the Monday following the Saturday your puppy has entered training. This gives your trainer the weekend to work on getting to know your puppy before connecting to you.  Once we connect you with your trainer, you are welcome to communicate with your trainer in the way that best suits the two of you.
You may want to share your pup's new name, or get updates on the training.  We encourage all of this!  We actually maintain a Training Liaison so that this process is seamless!  Each Pup-in-Training will have their very own Google album which will be updated each week by the trainer with photos and video so you can see your pup in action.
Who is training my puppy?
Phew! Good question!  As soon as you place your training reservation, we begin working on scheduling with trainers!  We use a large variety of trainers and we maintain a wildly populated schedule for folks who want training.  We even employ a Training Liaison to work with our trainers in order to provide the best care to clients and puppies.  Our trainers are:
Stay-at-home moms who have excelled in puppy care and board and train for us regularly;
College and High School students who train and board for us regularly;
Retired-at-home individuals who train and board for us regularly
Stand-alone business who maintain their own regular training and/or boarding and give priority to Crossfield Doodles.
Trained puppies have been working very hard on the following:
Night-Time Crate Training
By the time they go home, they have been sleeping alone in a crate through the night. We will let you know of any patterns of accidents we notice, but most have mastered this skill by going-home day. 
Day-Time Crate Training
By the time they go home, they have been able to be in a crate for up to 3 or 4 hours. We will let you know of any patterns of accidents we notice, but most have mastered this skill by going-home day.
Leash Walking
Puppies have been consistently walked throughout the day. We will provide you with the times they are used to walking and the expectation for pee and/or poop on these walks. Your puppy will be very familiar with a leash.
Free-Range Training
Your puppy has had hours of time that they have been able to be in his trainer's home "Free-range" meaning outside of his crate and play area. This has taken hours of work and it is not an "all day" arrangement. Each puppy has his capacity for this training and you will be informed of how your puppy is doing.
Command Training
Our trainer introduces and works with each puppy with the following commands:  Sit, Stay, and Come
Commands Continued
Each puppy has his strengths in each of the above areas. You will be informed at going home day of areas your puppy excels and areas you are going to need to work harder at.
Where to Find Pictures of Your Pup?
Google Album
Check your litter's group email with a link to the Google Album
Weight Check In
Giving Crossfield Doodles more information on your puppy is so helpful! Please let us know how much they weigh and what litter they are from so we can see the trend and post for all new Crossfield members. Thanks for how connected you are with Doodlepack! I know it's a huge help to the doodlepack community!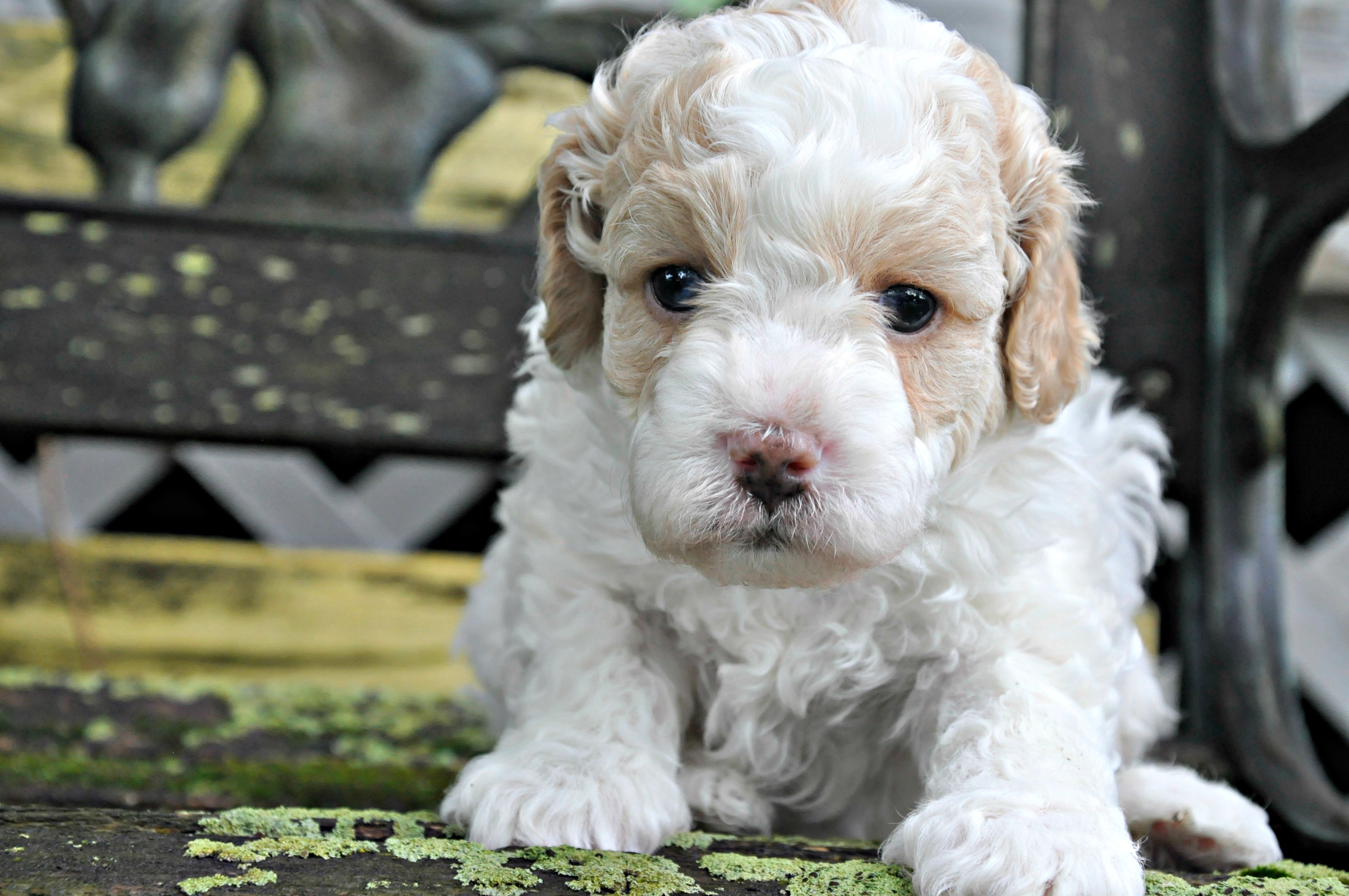 Share the Doodle Love
We breed doodles because we knew the joy of giving an allergy-free dog to our children and we wanted to share that joy with others. Doodles are amazing! You will be stopped by perfect strangers who are arrested by the look of your doodle and asked, "What kind of dog is that?!" People will gasp when you tell them how little your doodle sheds.
Share the Doodle love and share Crossfield Doodles with others. If you are happy with your doodle, we want to know about it and we hope you will share your satisfaction with others. Share our business card, our website, our phone number, and make sure they let us know who sent them. We appreciate reviews on Facebook, so please visit our page and let others know how you would recommend a Crossfield Doodle for their family one day!