SOLD
TRAINED MALE
$4500
This lover-boy is sharpe and amazing! He could do agility training or even train for therapy assist. We are looking for a loving home for this TRAINED male Labradoodle from our Nadya + Albus line. Bo has a silky, loose curly coat. At nearly seven months of age, he has worked-through many of his puppy habits, and will be a great addition to a home looking for an adult.  He will go home trained, walks on a leash, totally trained for crate both daytime and at night, does tricks. Yep, he's got all the bells and whistles!! Trained puppies go home CRATE INCL! He is UTD and has had all his rounds of vaccination INCL Rabies.
 Bo is entact. We will entertain serious inquires from small breeder programs. This boy's confirmation is exquisite. Pedigree information can be obtained through PawPrints.  He will carry for Parti & Chocolate!! Apply ONLINE
GUARDIAN HOME OPPORTUNITY
**SOLD**Camille $2000
Medium Labradoodle
Camille is a precious medium labradoodle that we are excited to add to our medium and standard line.   She has the most docile and sweet temperament.  We are especially excited to see her bring up puppies like her that would be incredible service or therapy dogs.  She is attentive, patient and works hard to please.  Camille is completely house broken and she is also crate trained.  She is going to make an excellent companion for her new family.
Camille is a brown and white tuxedo labradoodle.  She will have a wooly fleece coat.
She is clear by parentage on her genetic panel.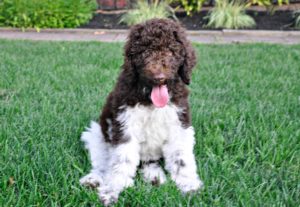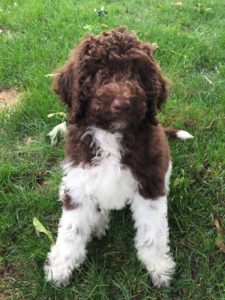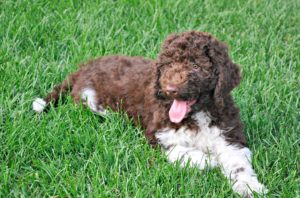 **SOLD**Maggie Mae $2800
Small Standard Goldendoodle
Maggie Mae is an endearing little girl!  She is 4 months old, is wonderfully trained and she's going to make someone very happy!  She has a lush curly coat with a white chest blaze and a tiny patch of white on her chin.  She bounces and prances and has beautiful black eyes.
Maggie Mae is from Crossfield Doodles' Nadya + Nash 1.25.2017.
Maggie Mae has had all of her vaccinations.  She has also received her rabies vaccination!  She does great through the night!  She sleeps by her furmum/dad's bed each night from around 10 pm till 6 or 7 am!  What a good girl!  She does great on leash walks.  Maggs is perfect indoors after her walks!  She is also crate-trained for up to 3 or 4 hours at a time during the day.
Maggie Mae will not be around here long!  Someone will snatch-up this rare opportunity to take home a perfect princess.
We expect Maggs to grow to around 45 pounds of Goldendoodle goodness.  Submit an online application or give us a call today!  267.377.5273
Included in Maggie Mae's price: 42″ double door crate, crate pad, blanket and toys plus all items in her Going Home Packet.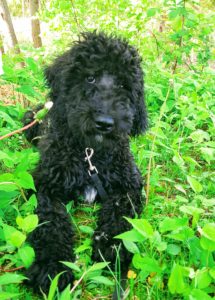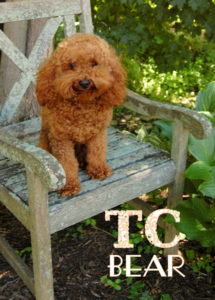 SOLD**TC Bear $3200**SOLD
TC Bear is strutting his stuff in his new neighborhood!!  Enjoy the good life, little buddy!
TC Bear is ready for the good life! He is AKC Registered and fully trained! This magnificent RED miniature poodle is only 12 pounds and has been a delightful fellow in our breeding program!
He has sired gorgeous red puppies for us and is ready to live out the remainder of his VERY full life with a furever family. TC Bear is less than 3 years old and has an impressive list of health testing! OFA Clear for Congenital Cardiac Disease; OFA Hips: Good; OFA Elbows: Negative; PRA & PRCD: Normal; Osteochondrodysplasia: Normal; EIC: Clear; Von W: Clear
TC Bear lived in a Guardian home with children and has been a delightful pet during his working career. He is completely house broken and leash trained (unusual gem in a breeding sire). He is Neutered and microchipped and up to date on all vaccinations including rabies. This guy will not last long as we have listed him on our website as well. Contact us soon to learn more about TC Bear!  267-377-5273
SOLD**Sydney $3200**SOLD
Medium Parti Labradoodle–RETIRED BREEDER
Sydney is in a wonderful new home making lots of friends with humans and other animals alike!! 
Our girl Sydney is ready for her new home!
This retired breeder is your chance to have a completely trained adult Labradoodle! Sydney is 3 years old.  She has mothered 3 beautiful litters for us and is looking forward to living out the rest of her life with a family that can give her the love of a furever home. 
Sydney is in exquisite health.  She has been tested to the nines including:
Penn Hipp:70th percentile
VonW:CLEAR; EIC: CLEAR
Complete Blood Panel: Normal
PRA: Normal
Sydney has also been microchipped. Her vaccinations are current through 2019. She has also been spayed. Sydney's temperament is perfect!  She loves to be at your side or on the couch.  She loves walks but also appreciates the comfort of home, a cozy place for companionship and a simple life.  Sydney would be an excellent candidate for training as an assistant or service canine. She has a desire to please and is very smart.
If you feel you would like to learn more about Sydney, please fill out our online
application
or give us a call at
267.377.5273