[vc_row][vc_column][vc_column_text]
Only one remains!!  Honey Pie!!
This is our final female from our Nadya + Nash F1bb litter.  Honey Pie is an absolute sweetheart!  Lush black coat with a bright white chest and white sox!  She will be ready for her new home on March 25th.  Contact Christy at 267.632.9609 or fill out our online application today!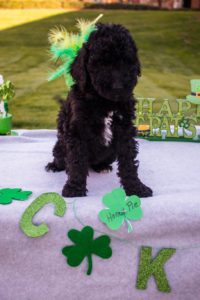 [/vc_column_text][vc_row_inner][vc_column_inner][vc_single_image image="1297″ img_size="large"][vc_column_text]
Nadya + Nash ARRIVED 1.25.17!
Six *F1bb Standard Goldendoodles: 4 female and 2 male; 5 black and 1 chocolate! $2000
Puppies will mature to 55 to 65 pounds. These puppies will be suitable for families with allergies. Nadya and Nash are both excellently tempered family pets. They are exceedingly intelligent, classy companions!  Puppies from this litter will also make wonderful service or assistant dogs.
Call Sharon Hatfield 864-918-2369 or submit an application to reserve one of these babies!
*F1bb is the cross between a F1b (NASH) X Poodle (NADYA)=87.25% Poodle=Excellent for allergies, super smart, companion driven[/vc_column_text][vc_single_image image="1294″ img_size="Large"][/vc_column_inner][/vc_row_inner][vc_single_image image="1178″ img_size="large"][vc_row_inner][vc_column_inner][vc_column_text]
Reservations:
1. Reserved-KM, Gilbertsville, PA
2. Reserved-BB, Lancaster, PA
3. Reserved-MB, Furlong, PA
4. Reserved-BD, PA
5. Reserved-JS, PA
6. Pick 6
We will also accept one
application
for the waiting list for this litter.
[/vc_column_text][/vc_column_inner][/vc_row_inner][/vc_column][/vc_row]