Maggie Grace + Franklin
Puppies Expected: March 26, 2021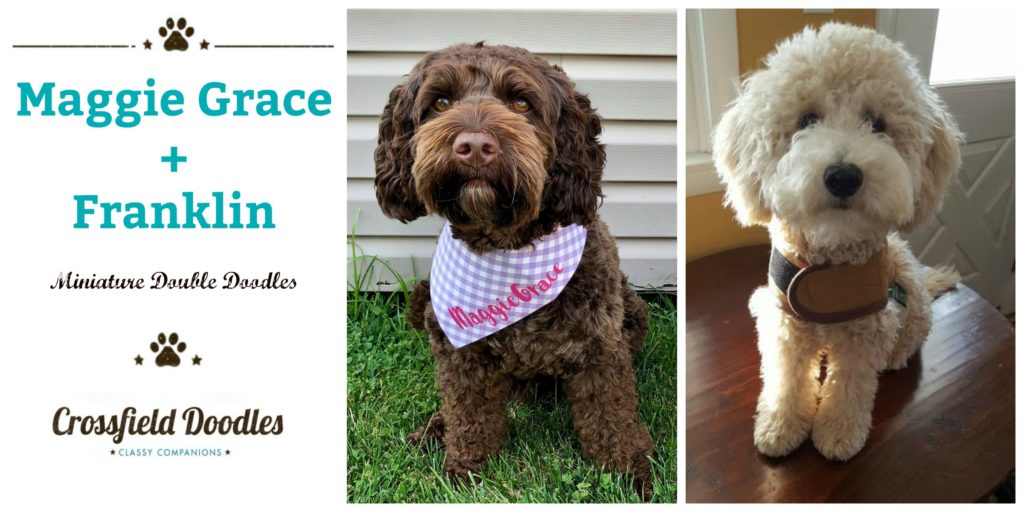 Litter Description
Miniature double doodles expected March 26, 2021 with colors ranging from cream, caramel, apricot, red, chocolate, and black. These puppies will mature to approximately 20-30 lbs.
Price: $3,400
Going Home: May 2020
Preview Past Litter:
…
Reservations
1. Breeder Choice
2. Reserved- MG, Souderton, PA [TRAINED]
3. Reserved- MG [TRAINED]
4. Reserved- NP, Perkasie, PA
5. Reserved- AO, Boston, MA
How do I begin the adoption process?
Please learn more about our adoption progress from start to finish by reading here. In order to express interest for this litter or other available litters, please click the button below to begin the application.
Is training available for this litter?
Please be advised that our training is subject to availability. Our trained puppies will be ready to go home at 11 and 12 weeks of age! Read all about our training program and how to reserve a trained puppy by clicking the button below. 
What if spots open up on this litter?
If spots open for any reason (more puppies born than expected or client shifting off the list) we will fill vacancies from our *Special Reserve list.  To read about the guidelines, policies and availability on our Special Reserve list, please click the button below.
Is my puppy price increasing?
While our prices may increase periodically, if the contract and deposit have already been submitted prior to the increase, contract price is honored for the contracted litter. Please read more about our puppy pricing by clicking the button below.