[vc_row][vc_column][vc_row_inner][vc_column_inner width="2/3″][vc_single_image image="1319″ img_size="large"][/vc_column_inner][vc_column_inner width="1/3″][vc_column_text]
Miss Jaxie, Multi-gen Labradoodle
Jaxie is our fun-loving, bouncy female that loves life!  She loves being a part of the pack here at Crossfield Doodles and gets along so very well with all her aunts and uncles!  She is also another crowd favorite and who could resist?  Her tail is always up and she's excited to greet any visitor here at CFD!
Jaxie has a wonderfully soft curly-to-wavy coat.   For now, Jaxie is enjoying the good life with her guardian family in Southeastern PA.  She enjoys walks, plays with her human brother and sister and is working on her manners!  Miss Jaxie produces gorgeous puppies for our medium line.
Health Clearances: Full breed panel: NORMAL/CLEAR including Exercise-induced collapse, CLEAR; Progressive retinal atrophy, CLEAR; Von Willebrand disease, CLEAR
[/vc_column_text][vc_raw_html]JTNDYSUyMGhyZWYlM0QlMjJodHRwcyUzQSUyRiUyRnd3dy5wYXdwcmludGdlbmV0aWNzLmNvbSUyRnBlZGlncmVlcyUyRmRvZ3MlMkZkZXRhaWxzJTJGNDIyMSUyRiUyMiUyMHRpdGxlJTNEJTIySmF4aWUlMjdzJTIwUGF3JTIwUHJpbnQlMjBQZWRpZ3JlZXMlMjBQcm9maWxlJTIyJTIwdGFyZ2V0JTNEJTIyX2JsYW5rJTIyJTNFJTNDaW1nJTIwc3JjJTNEJTIyaHR0cHMlM0ElMkYlMkZwcGctd2ViLWV4dGVybmFsLnMzLmFtYXpvbmF3cy5jb20lMkZzdGF0aWMlMkZwZWRpZ3JlZXMlMkZpbWclMkZkb2dfc2VhbC4wNDM0MDhiOTA1M2MucG5nJTIyJTIwYWx0JTNEJTIyUGF3JTIwUHJpbnQlMjBQZWRpZ3JlZXMlMjBEb2clMjBTZWFsJTIyJTIwdGl0bGUlM0QlMjJUZXN0ZWQlMjBieSUyMFBhdyUyMFByaW50JTIwR2VuZXRpY3MlMjIlMjBzdHlsZSUzRCUyMm1heC13aWR0aCUzQSUyMDMwMHB4JTNCJTIyJTJGJTNFJTNDJTJGYSUzRQ==[/vc_raw_html][/vc_column_inner][/vc_row_inner][vc_row_inner][vc_column_inner][vc_column_text]
Growing-up Charley
What is it like to grow-up with one of our Guardian Families as a Crossfield Breeder?  Charley can tell you it has it's perks!
Charley is an up-and-coming for Crossfield Doodles.  She's one of Miss Jaxie + Merlin's super-stars and she is loving her new life!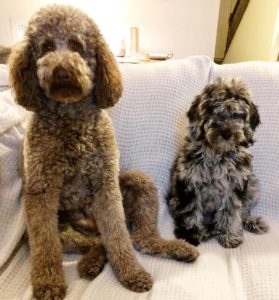 Charley lives with her real mom, Jaxie…but of course, she has an amazing *hu-mom who travels, writes and has her own blog, Clarissa Explains It All  Charley even helps Clarissa explain everything canine related, like: How to take successful road trips with your dog.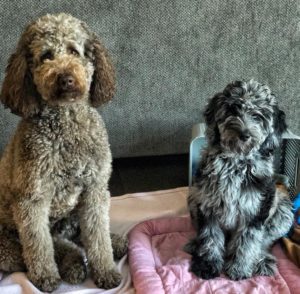 Charley is a Merle Multi-gen Labradoodle.  She inherited her sweet disposition from mom and dad!  Charley will keep doing all she needs to do and we'll keep her in mind for 2019!  We plan for her to be an important part of our Miniature and Medium line, and Charley will help Crossfield Doodles continue to offer specialty colors like Blue and Red Merle![/vc_column_text][/vc_column_inner][/vc_row_inner][/vc_column][/vc_row][vc_row][vc_column][vc_column_text]
---
Our Doodles
[/vc_column_text][/vc_column][/vc_row]