Here at Crossfield Doodles we believe that the best environment for our breeding dogs is the home. Our goal is to continue developing our breeding lines while ensuring our breeding dogs are in family homes where they are nurtured and socialized as classy companions! We feel the Foster Program is an excellent way to achieve this goal. We have several Foster Opportunities available! Please read further about our Foster Program!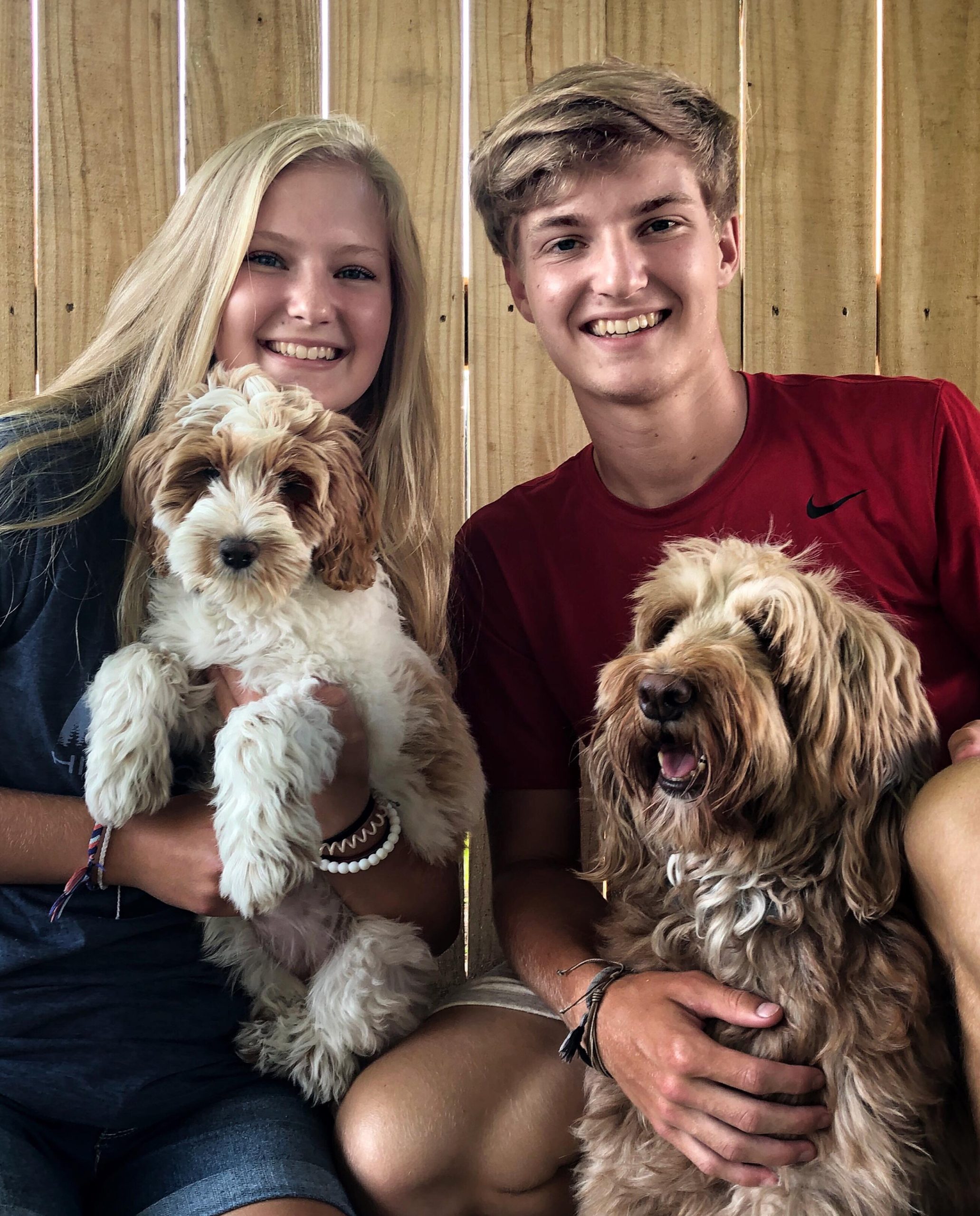 What is the Foster Program?
The Foster Program allows our breeding dogs to be in the loving care of guardian homes. The Foster Program exists to match one of our "pick-of-the-litter puppies" to an approved furever family while the breeding rights are retained by Crossfield Doodles for a designated amount of time. Foster homes allow a dog to live a happy, full life with a family while still giving Crossfield Doodles an amazing line of beautiful classy companion puppies.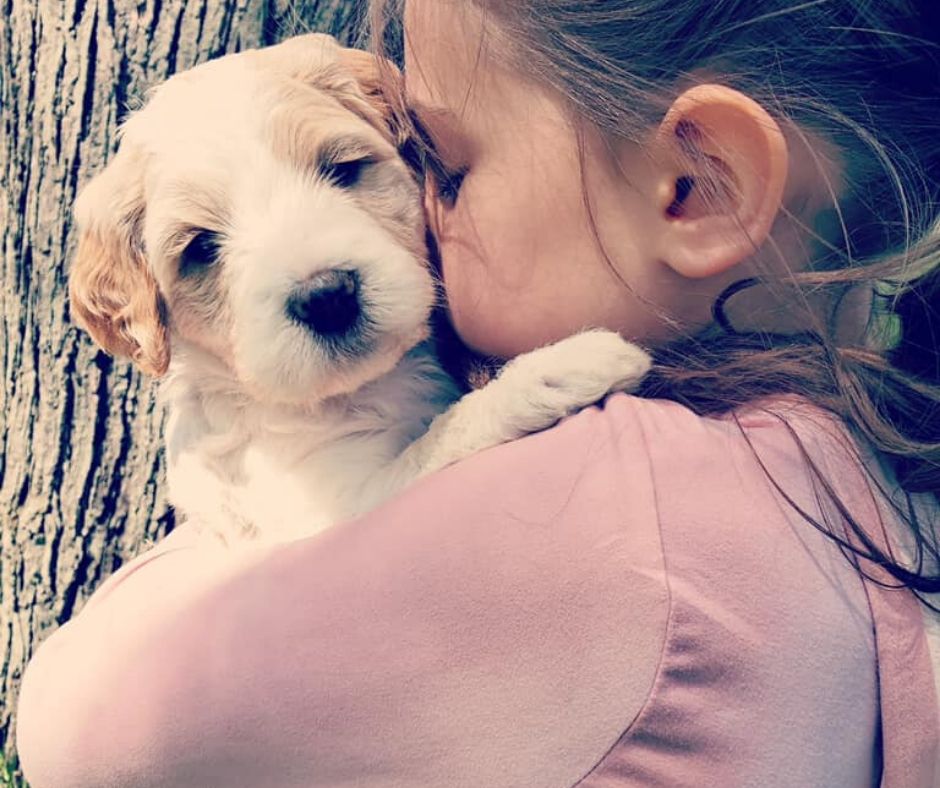 What are the benefits of being a foster home to a Crossfield Doodle?
You are the foster home of an amazing doodle! When we choose a puppy to enter the Crossfield Foster Program, we will be selecting a puppy that conforms to our breed standard. We will evaluate this puppy based on his conformation, color and temperament. Your doodle will receive complete health screenings at no cost to you! If your doodle is selected to enter the breeding program, you get to share in the excitement of seeing the offspring your doodle nurtures.  We will also supply a reimbursement for each successful breeding.  While in the Foster Program we will groom your doodle for any photo shoots free of charge. Finally, when your doodle exits the Foster Program, we will spay/neuter at no cost to you.
What does it cost to become a Foster home?
The price of a doodle entering our Foster Program is 50% of the cost of the normal pet price. We expect you to be a 100% Foster Home in return!
Are there medical costs we will incur?
All veterinary costs associated with breeding and whelping are the responsibility of Crossfield Doodles.   Foster Home Families are responsible for the general routine veterinary care and overall wellness of the Foster puppy or dog placed with them. This means providing annual vaccines, monthly heartworm prevention, flea/tick prevention as well as training, exercising and socializing with all the love and care possible from the foster family members!
What are the requirements for a Foster Home?
Foster Homes need to be located within 40 miles of Crossfield Doodles.  While we prefer a fenced yard, we do discuss your play for keeping your breeder secure on your property during our interview.  We do consider various options. Foster Homes will need to meet and and agree to certain criteria including, but not limited to the following: 
To be experienced pet owners.  We are sorry, but we do not place breeding dogs in first-time dog owner, homes.

To keep the dog well socialized with other dogs and people of all ages.  Your dog should be well-loved by everyone they meet including strangers, other pet owners and small children.  It takes work on the part of each of us to create excellent breeding dogs.

To enroll in training upon take home.  Properly socialized and well-trained are keystones of our breeding program.

To give the dog adequate exercise.

To practice safe handling of the dog. The dog should not be left outside unattended or be left at home for the majority of the day. A leash should be used in public and basic obedience training should be provided. 

To feed approved dog foods and to give supplements recommended by Crossfield Doodles. 

To provide normal, routine vet care, as needed, at guardian's expense. 

To transport the dog to us when needed for breeding, litters, or health visits.

To notify Crossfield Doodles if the dog becomes sick or injured, we need the family to notify us right away so we are involved in all decisions regarding the treatment of the dog.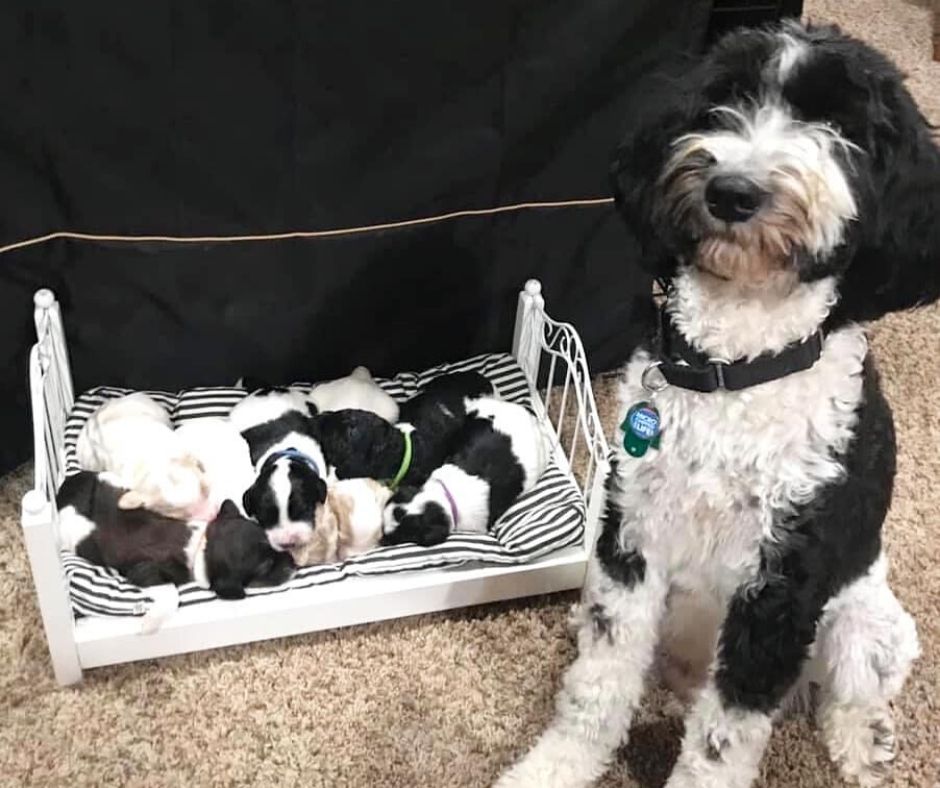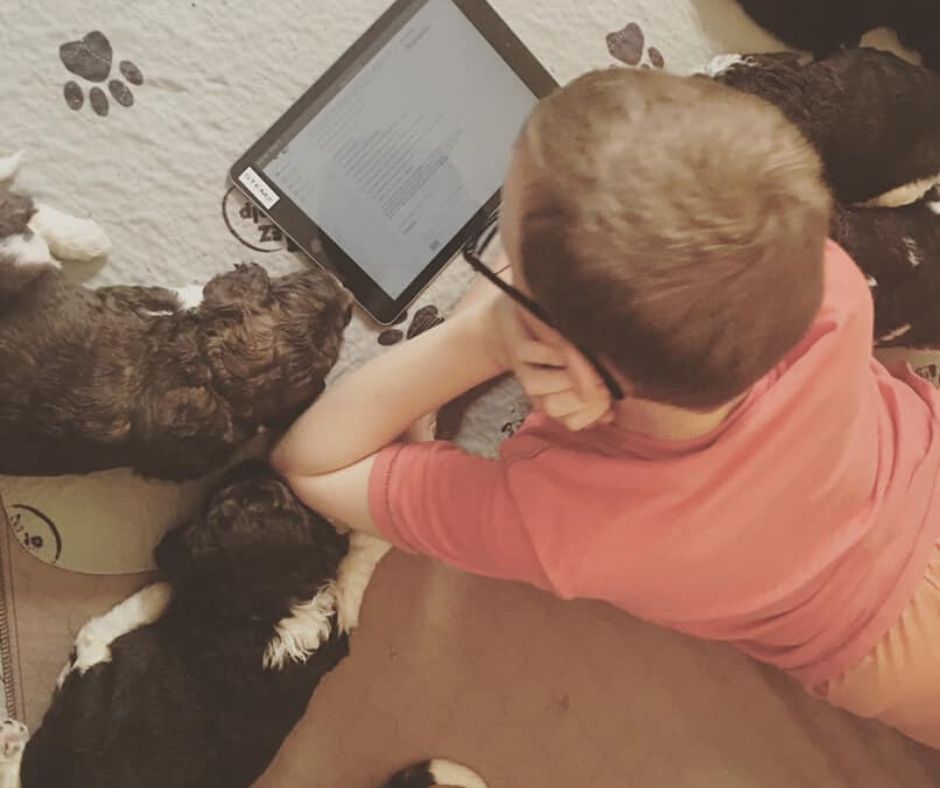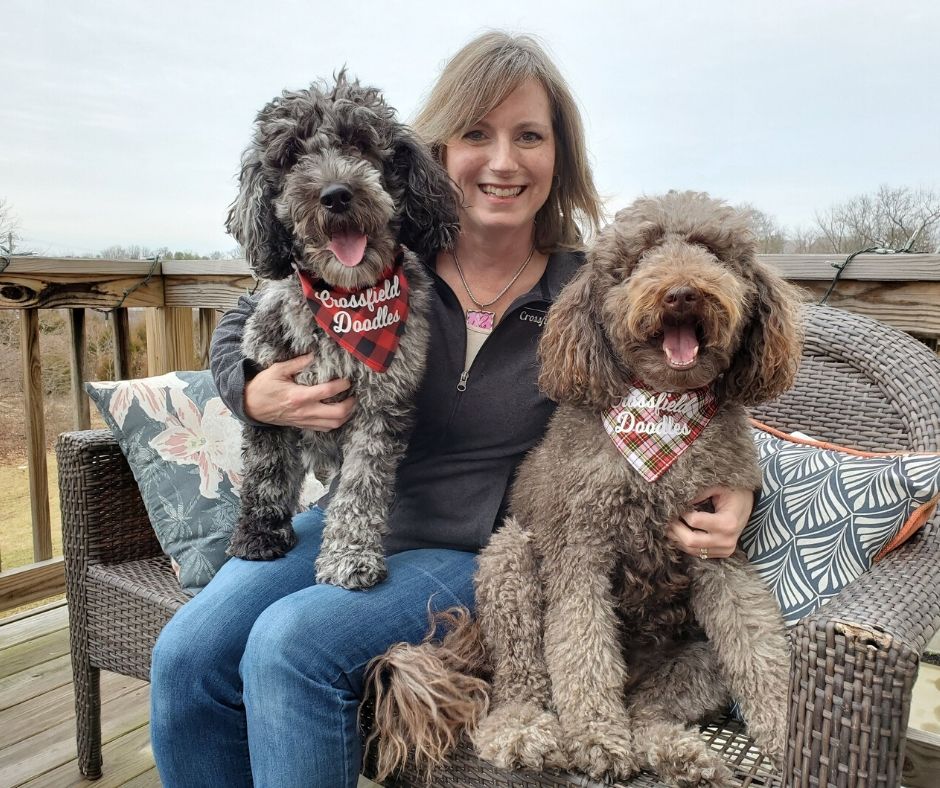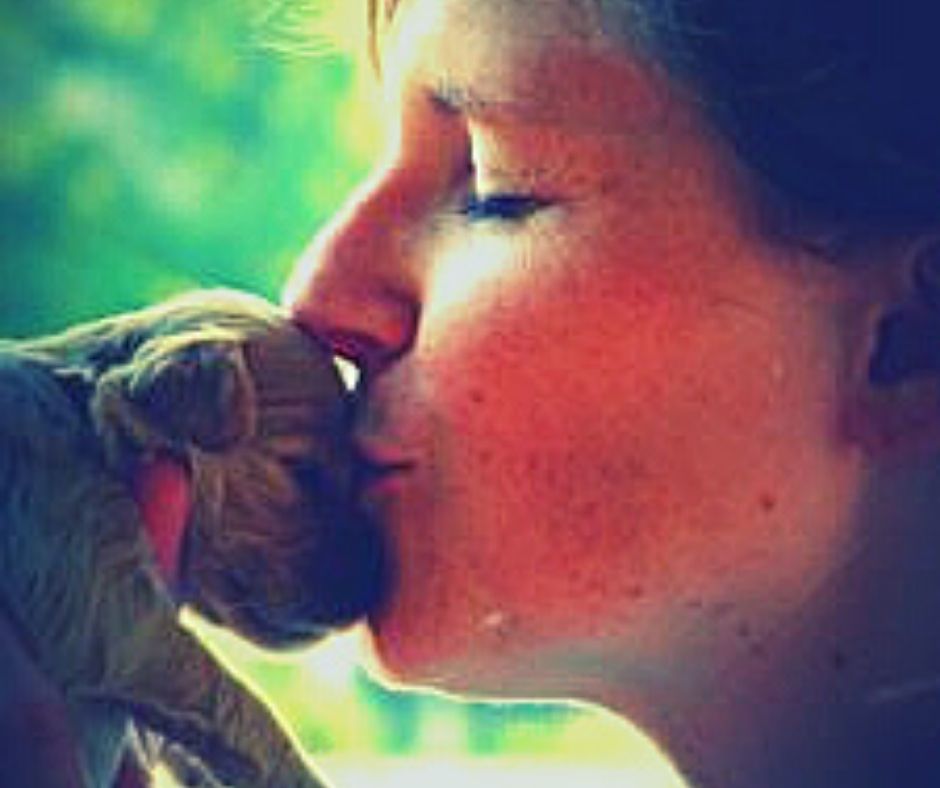 If you are interested in becoming a participant in the Foster Program, please begin by filling out an online guardian home application. We will schedule a phone interview with you and discuss this exciting possibility!
Frequently Asked Questions
Can we be a foster home for a male puppy or only a female?
Crossfield Doodles has opportunities for both male and female foster homes although the requirements for breeding do vary between male and female foster dogs.  The majority of foster home opportunities are available for female guardians.
If we are the Foster Home for a female dog, are we required to have the puppies in our home?
While everyone loves puppies, we understand that not everyone feels capable of raising (whelping) a litter of pups!  If you have the desire and intention to whelp puppies in your home, we will certainly welcome that conversation. However, only certain foster homes are selected as whelping families and must have our complete confidence in all manners that pertain to raising a litter of puppies. Only about half of our Foster homes raise puppies from their girl's litter.  The other half take a short vacation from their girl during the process and allow her to go to one of our other loving Foster homes to raise her litter of puppies. 
What age do you start breeding the dog?
We will usually breed on the first heat following when the dog reaches 12 months of age (or, her second heat). We do like to be notified when your puppy has its first cycle so we can have a calculated prediction of her next cycle and make breeding plans accordingly.  Males also begin breeding around this age.